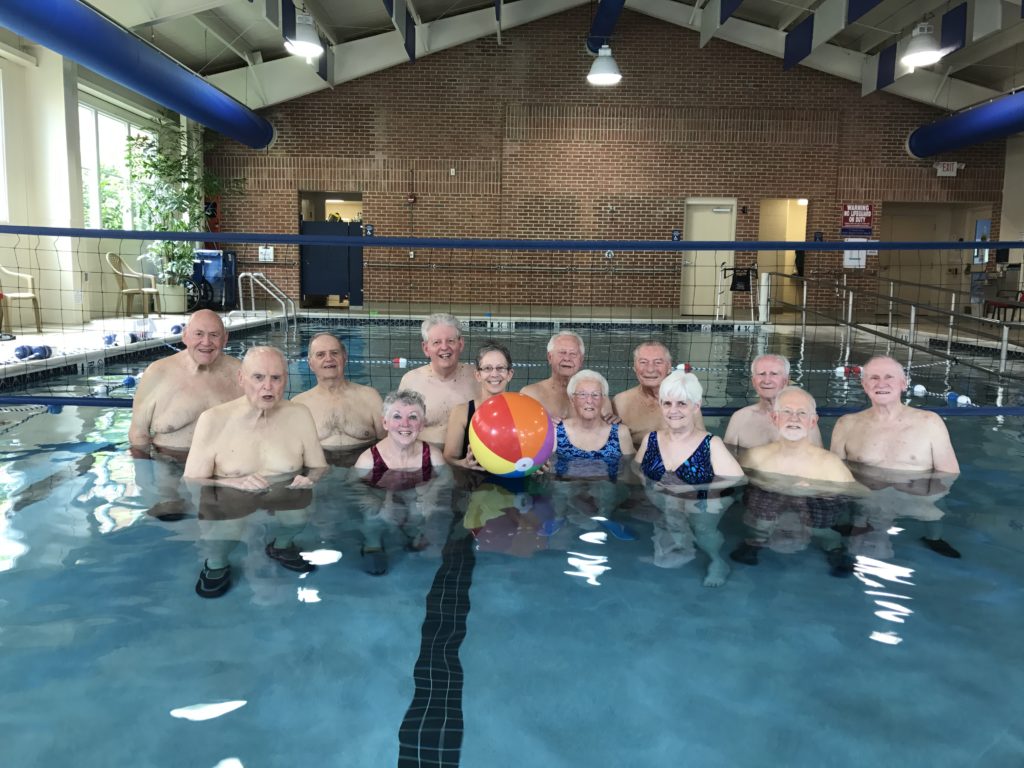 More and more seniors are finding aquatic exercise to be their favorite and most beneficial way to maintain fitness. While physical activities in water can have advantages for anyone, they have notably favorable results for seniors with certain health challenges.
Water therapy can provide soothing relief for chronic condiditons including arthritis, joint pain, and circulatory issues. Because a person's buoyancy in water reduces the impact on joints, seniors can exercise longer without pain. This is why AgingCare.com names swimming and water exercise among the most injury-free sports during senior living.
Resistance created by the water also helps increase muscle mass and strength. Other benefits of aquatics are increases in flexibility, balance, and bone density. Swimming and water exercise are good cardiovascular exercises, too, and can help lower blood pressure and cholesterol levels.
Seniors who want to maintain good health or wish to improve aspects of their health should consider giving water fitness a try. But they should first see their physician because these activities could be counterproductive for seniors with some medical conditions.
Brethren Village offers aquatic facilities and organized activities for Residents
At Brethren Village Retirement Community, the Shelley Aquatic Center's 88-degree indoor pool and 99-degree whirlpool hot tub provide relaxation and therapy for Residents all year long.
Our regularly scheduled aquatic programs include aqua aerobics, the Arthritis Foundation Aquatics Program, lap swimming, synchronized movement and swimming, open swim, senior aquacise, water walking, water volleyball, mind-body water workout, and learn-to-swim class. Residents are also treated to special events at the aquatic center, such as poolside parties and the annual synchronized swimming show by our own Mermaids.
Additional fitness and wellness programs for seniors at Brethren Village
In addition to aquatics, our wellness initiatives include two fitness centers located in Fieldcrest and Terrace Crossing. Both fitness centers feature top-of-the-line cardiovascular and strength-training equipment, as well as free weights. Our trained fitness staff supports Residents in getting familiar with the equipment as they seek to improve balance, strength, flexibility, and cardiovascular health.
Residents new to the fitness center meet with a Wellness Department Team Member for orientation and a fitness assessment to gauge their baseline fitness level and prepare a personalized cardio and strength training program. Residents are free to use the fitness facilities independently or participate in supervised sessions.
These programs not only promote fitness and wellness in seniors but also serve as ways to meet new people and as social activities at retirement communities.
If you think you may be interested in moving to a retirement community with a pool and gym, we hope that you will visit Brethren Village to see them for yourself. Our retirement living options and amenities are available to Residents of our independent residential community as well as those receiving supportive care services—personal care in their apartment or room, skilled care in our long-term care facility or dementia care in our memory support neighborhood.
We hope you will contact us to request more information or schedule a tour of our senior living community at Brethren Village near Lancaster, PA.