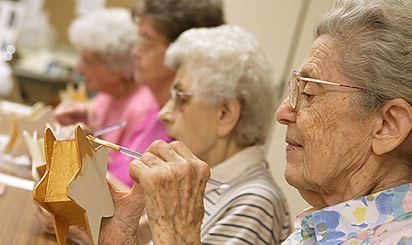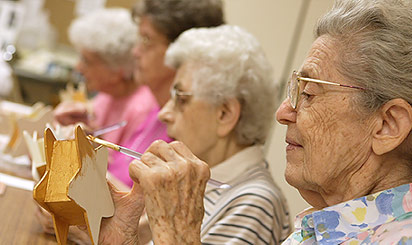 The Residential Life Department offers a wide range of programs for all Residents in order to truly enhance retirement living. Whether tending to plants in our Resident greenhouse, woodworking or more, various activities happen daily at the Village to keep all our Residents healthy and happy.
Some of our most popular Resident interests include:
Creative Arts Room
The Creative Arts Room at Brethren Village, located on the ground floor of the Village Center, provides Residents with the therapeutic means to express themselves through jewelry making, quilting, painting, ceramics, crafts, and sewing. Many Resident-run groups sell items made here to benefit Brethren Village Residents. A variety of fun and enjoyable programs are scheduled monthly and offered to Residents.
Green Thumb Society
The society operates a Resident-run greenhouse on campus, and also manages and facilitates other outside Resident gardens across the grounds of the Village. Many Society members have vegetable and flower gardens they choose to plant and maintain. An annual fundraiser and monthly meetings for entertainment and education are held for all Residents on campus to participate.
Model Train Club
The Model Train Club at Brethren Village, located in the Model Train Room in Terrace Crossing, provides train-loving enthusiasts and Residents an enjoyable atmosphere to develop and share their trains, tracks, scale replicas and towns. Open to the public for visitation, the Model Train Room is another example of a Resident-run activity that helps enhance the retirement lifestyle of those who call the Village home.
Village Library
The Village Library operates on a self-service basis. Located on the first floor of the Village Center on campus, the library has extensive fiction, nonfiction, local and national historical book collections. Magazines and books are available for checkout and library services extend into Residents' homes by use of the Bookmobile of Lancaster County Library.
Workshop
The Resident-run Brethren Village Workshop is a stand-alone woodworking and craft shop on the campus of the Village for the exclusive use of Residents. Featuring an expansive shop area—complete with various tools, supplies, and construction capabilities—the space holds a general work room, craft area, paint booth, finishing room, chair caning area, snack area and a dust collection system throughout. From personal projects to ongoing campus-wide improvement efforts, the Workshop is an enjoyable aspect of active living experienced by many Residents. The members also do minor furniture repairs for Residents and non-Residents.