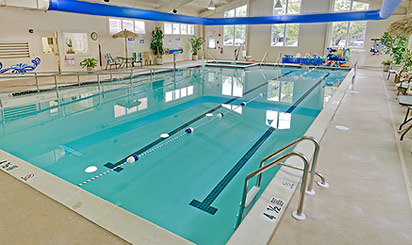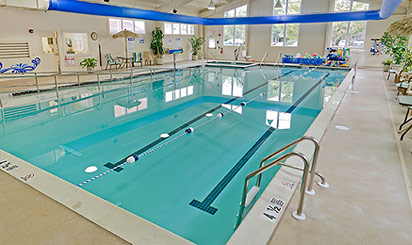 At the Shelly Aquatic Center, the Village offers an indoor heated pool and hot tub available for year-round use for various classes, open, lap and pleasure swimming. Heated to 88 degrees for the comfort and benefit of all users, the pool, coupled with the 99 degree whirlpool hot tub, is therapeutic — no matter what your age — and can enhance a Resident's overall wellness.
Examples of aquatics programs offered at Brethren Village include:
Aqua aerobics
Arthritis Foundation Aquatics Program
Lap swimming
Mermaids (synchronized movement and swimming)
Open swim
Senior aquacise
Water walking
Water volleyball
Non-Resident use of our Aquatic Programs
We are pleased to offer the opportunity for non-residents the use of our pool and spa. For a nominal fee, those who live in the community may participate in any aquatic program at Brethren Village. You can view our current pool schedule here. You can obtain the necessary paperwork to use our pool here. If you have any questions, please call the Shelly Aquatic Center at 717-581-4295.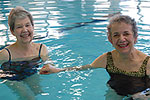 For more information on aquatics programs at Brethren Village Retirement Community, please Contact Us or call our Wellness Department at 717-581-4252.