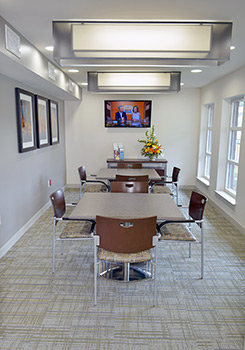 Common areas of our short-term rehab facility include a lounge and an area for personal business, to provide residents and their visitors with additional spaces outside their room to relax, socialize and stay connected. Team member offices and medical equipment are kept behind the scenes to maintain dignity and privacy in a tranquil setting.
Culture of wellness & hospitality
20 all private suites include personal bathrooms and walk-in showers
Individually controlled room temperature
140+ channels of HD television including premium sports and movies
Technology-equipped rooms with high-speed wireless internet, charging ports, smart TVs
In-room dining options with an always-available menu
24×7 Security and Electronic Door Access and CCTV for peace of mind
Inpatient Therapy
Raised ceilings
State of the art equipment
Private Treatment Room
Outpatient Therapy
Raised original roof by 4 feet to optimize light.
Light studies for appropriate light and shading
State-of-the-art equipment
Frosted windows for privacy
Private Treatment room
Resident Rooms
Large bay windows with optional shade or black out curtain
Flat screen TV
Electric Recliner chair
Adjustable closet space
Private Bathroom features
Neutral tile surround, heat lamp, grab bars for safety
Bariatric Rooms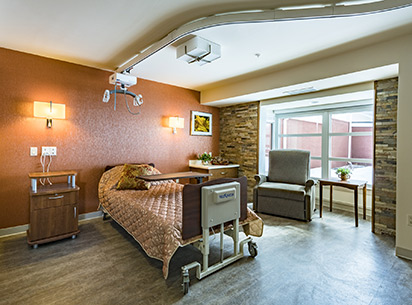 Similar amenities to resident rooms, such as bay window and individual temperature control
Offers wider entrance and furniture
Specialized lift to assist with transfers
Tranquility Spa
Separate spa bathtub with therapeutic air jets
Hair care available through Bonnie's Salon Services
Business Lounge
Computer available for guests
Lounge chairs with desk pads
Charging stations for electronic devices
Stay connected to the outside world
Ambulance Entrance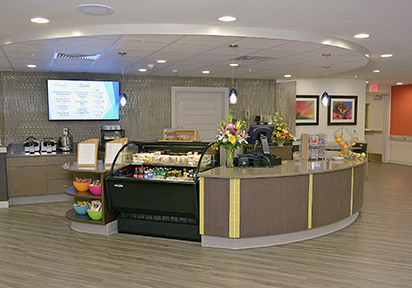 Dining
Bistro-style menu selections at our Clark Café
Food made with the freshest ingredients on-site
Hours: 7 AM to 7 PM
To place an order, call 717-581-4097
Parlor
Accommodates 10-12 people
Can be reserved for private meetings or celebrations such as a birthday or anniversary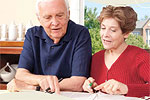 For more information about our amenities, call 717-581-4438.