The Rehabilitation Center at Brethren Village, a separate building from our nursing center, is for anyone in our retirement community … and the outside community.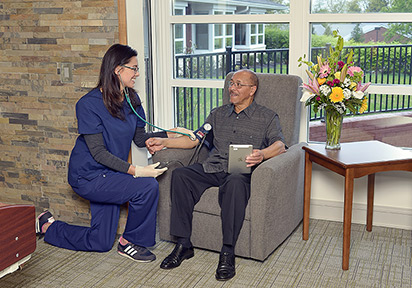 The Rehab Center is a state-of-the-art, freestanding building with 20 fully furnished private suites, featuring a complete range of inpatient and outpatient therapy services and an impressive array of amenities. This rehab facility has been designed to bring elements of the outdoors inside — including sunlight, outdoor views and nature photography. All resident suites feature a bay window surrounded by natural stone tile walls to bring the outdoors in. The resident suites, common spaces and therapy gyms feature abundant natural light, all serving to create a healing environment leading the way to successful short term rehabilitation. The spacious and welcoming rehab center offers the latest in therapy techniques, in order to maximize functionality and promote wellbeing. Individualized treatment plans are developed to help achieve each individual's specific goals, with the desired goal of returning to home. Our team of qualified professionals will guide you in developing your treatment plan, from pre-hab to rehab to outpatient to wellness.
The Rehabilitation Center proudly offers:
A Specialized Nursing Center of Excellence with rehabilitation programs for neurological, cardiopulmonary, orthopedic and complex medical conditions
Comprehensive Wound Care Management Program
Physical, Occupational & Speech Therapy
Pulmonary Rehabilitation Program
On-Site Outpatient Therapy serving the greater community
Full Range of Balance, Mobility & Cognitive Exercises
Bariatric Services
Aquatic Programs
Complimentary Transition of Care Services –Providing continuity from Rehab "Prehab" to Home
One aspect that makes The Rehabilitation Center at Brethren Village unique is our comprehensive Transition of Care Services, including a "pre-planning" consultation prior to surgery, with a commitment to guide you through your hospital stay, through short term rehab, and right on to your recovery back to home. Our caring team will see that you have made a safe transition back to your home, providing customized education and resources to keep you on the road to full recovery.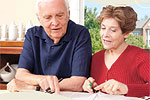 For more information on our Rehab Center in Lancaster, PA or to tour our facility, please
Contact Us
.