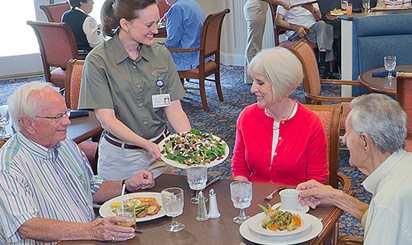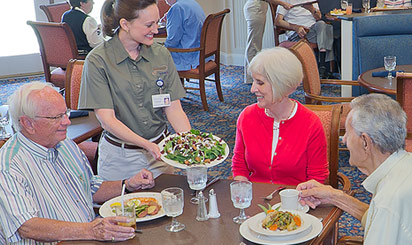 At Brethren Village, how you choose to dine is totally up to you. We offer a number of dining options for Residents and Guests. Pick what works best for you, whether preparing your own meals at home or dining in one of our on-campus restaurants. From casual service dining to café-style walk-up meal service, there's something to fit every occasion. We have a variety of meal plans available so you can find your perfect fit, but at Brethren Village, you will never be required to purchase a mandatory meal plan.

Two Great Dining Choices
Village Center Bistro (Village Center)

Casual Dining setting featuring breakfast (offering specials Monday-Friday). Daily lunch and dinner items, daily/weekly sandwich and salad specials, freshly baked hand-spun personal pizza, grilled and fried items including all-beef burgers and hot dogs, chicken breast sandwiches, chicken tender platters and more. Hand-dipped ice cream and milkshakes, house-made desserts, fresh baked pastries and a large variety of soft drinks and coffee.
Hours: : Monday – Sunday: 7:00 a.m. – 6:00 p.m., Holidays: 11:00 a.m. – 5:00 p.m.
Breakfast: 7:00 a.m. – 10:00 a.m.
Lunch: 11:00 a.m. – 1:30 p.m.
Dinner: 4:30 p.m. – 6:00 p.m.
For take-out orders or more information, please call 717-581-4303.
Chives American Grill (Fieldcrest)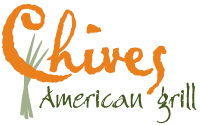 Personalized service in a warm, casual dining room as your meal is prepared in an open-air exhibition kitchen. Selections include robust soups, fresh baked breads, garden salads, charbroiled steaks, fresh seafood, chicken and more!
Hours: Monday – Friday: 11:30 a.m. – 6:30 p.m., Saturday: 11:30 a.m. – 3:30 p.m, 4:30 p.m. – 6:30 p.m., Sunday: 11:00 a.m. – 2:00 p.m. Brunch
For reservations, please call 717-581-4350.
Please note: All locations have carry-out and meal delivery available. Holiday hours may vary.

The Menus presented on this page require the Adobe Reader player. If you do not have the plugin installed, you may download the latest version of the Adobe Reader plug-in for free from the Adobe Web site.