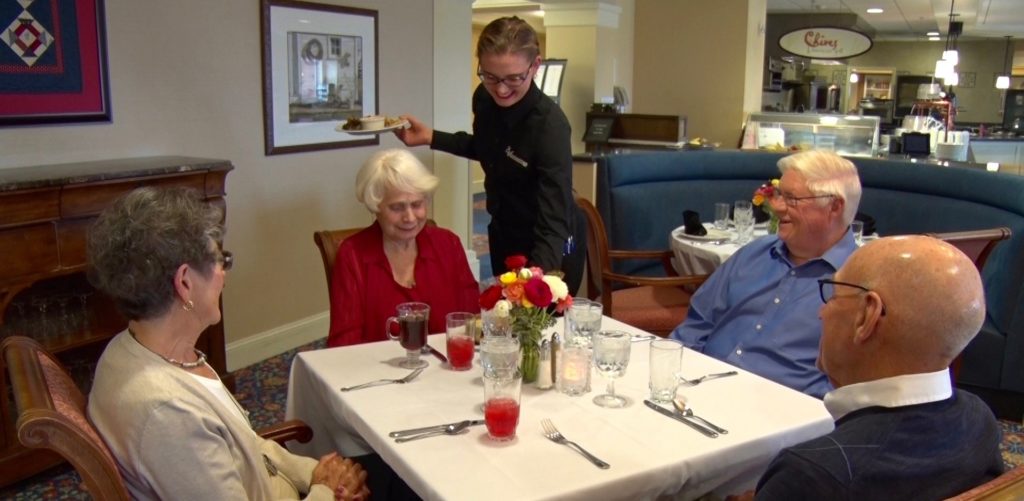 If you have asked considered all the relevant factors and decided to move to a retirement community, how will you decide on the right one for you? What will you look for and what questions will you ask to arrive at your decision?
We encourage you to consider three major factors—quality of life, standards of care, and cost/value—which we explore with you here in our tips for finding a senior living community.
To further guide you, here are questions to ask within several areas that can be most important in the process of choosing a retirement home:
Cost/value – Which is a better overall value: a CCRC (continuing care retirement community) or a month-to-month rental community? What services are included in the various cost options? What are the estimated costs of the retirement community compared to the expenses of maintaining your private residence?
Health care – How will the community manage your health care needs, both current and future? How are medications supervised? Are licensed nurses on duty around the clock? Is a long-term (skilled nursing) care facility available if you should need it? How are medical emergencies handled? Is on-site therapy (physical, speech and occupational) available? Is memory care an option if needed?
Safety – How did the community's health care facilities rate in its most recent state inspection? Were there deficiencies that concern you? How are falls addressed and reduced?
Amenities – Is transportation service provided? Is housekeeping service an option? What are the dining choices? Are meals nutritious, varied and flavorful? Are dietary restrictions easily accommodated? Are fitness activities available? Are there plenty of activities (crafts, music, plants, etc.) from which to choose?
Professionalism of staff – What training does the health care staff have to meet the needs of seniors? Does the staff appear compassionate and patient toward Residents?
Appearance – Are buildings and grounds well maintained? Are indoor public areas clean, comfortable and pleasant? How often are rooms in personal care and memory support cleaned?
Social activities – Does the retirement community offer social activities that you enjoy? Does it provide multiple opportunities to meet new people and form friendships?
If you're looking for guaranteed lifetime housing and care with a wide variety of services and amenities, a continuing care retirement community (CCRC), such as Brethren Village, may be your best fit. CCRCs offer a tiered approach to senior living, with seniors usually starting in independent living and moving to personal care or skilled care if needed. The opportunity to live in one location as you get older lets you plan with peace of mind for any future medical needs, including long-term care and memory support (or dementia care), delivered by trained health care professionals.
At Brethren Village, our Residents are in compassionate, experienced hands. We have more than 500 Team Members committed to high standards of professionalism and dedication to excellence in caring every day.  Ranging in age from 16 to 87, our Team Members mirror the rich diversity of the wider community. Their differences in age, background and beliefs result in varied personalities and perspectives, creating an enriching residential environment.
If you have begun looking for a retirement home, please visit our beautiful retirement community near Lancaster, PA, and meet some of our Team Members. We think you will discover why so many seniors proudly call it home.  Contact us to schedule a tour or obtain additional information.