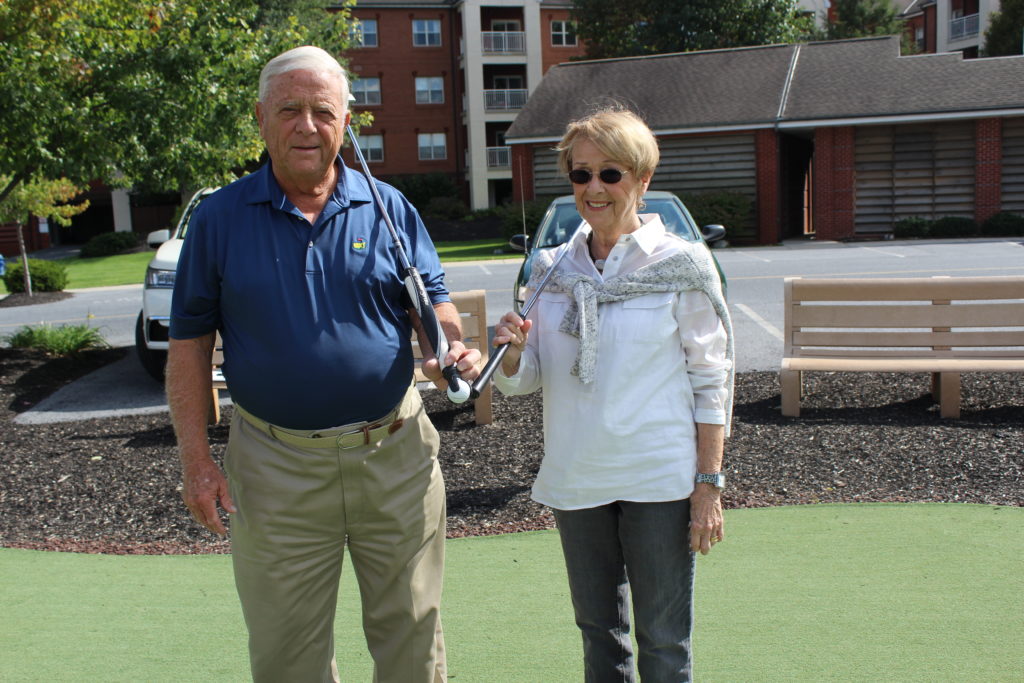 "The beautiful spring came; and when nature resumes her loveliness, the human soul is apt to revive also." (Harriet Ann Jacobs, American writer)
What is it about spring that seems to revive the soul—and body, too? Do we really get spring fever?
Clinical psychologist Michael Terman says that what we call spring fever is an "unpredictable fluctuating mood and energy state that contrasts with the relative low [of the] winter months." The sudden improvement in mood, says Terman, is due to the earlier onset of morning light, which helps chase away winter doldrums.
Outdoor social activities at retirement communities bring seniors together
With spring's arrival at Brethren Village, our Residents are eager to get together outside for fresh air and sunshine—simply relaxing or engaging in various outdoor social activities at our retirement community. We encourage that enthusiasm by planning fresh-air activities for their enjoyment.
During warm spring days, then, you can find our Residents participating in favorite pastimes that offer opportunities for fitness and wellness for seniors. Frequent outdoor activities here include walking, bicycling, bocce, golfing, gardening, and simply relaxing on a bench, possibly with a good book in hand.
You will also find seniors, along with family members and friends, enjoying our outdoor concerts, picnics and other events held here at Brethren Village. For Residents who like to get away for a day or longer, we host day trips to area sights and events, as well as overnight trips to destinations farther away.
Many of our seniors walk as much as possible to our on-campus activities, but we realize that not everyone can do that. So, for those who have places to go but can't walk far or drive, we take them to their destinations in our complimentary shuttle vehicles. Our shuttle service provides transportation to all our dining venues, shops, and residential areas, as well as our Pharmacy, Banking Center, Beauty Salon/Barber Services, Village Library, and Chapel. We also transport Residents to off-campus locations nearby, such as grocery stores, shopping centers, and doctors' offices.
Year round, Brethren Village offers activities at all levels of care
We provide seniors with a wide range of indoor social activities throughout the year and encourage participation by all Residents who can participate. Most live in senior independent living cottages or apartments, or in personal care apartments or rooms. But, we involve Residents of our long-term care facility (for skilled care) and memory support neighborhood (for dementia care) to the degree that they are able.
If you are looking for an active and scenic retirement community in Lancaster PA, we hope you will visit our bustling campus near Lititz, PA, and see why so many seniors enjoy retirement life here. We invite you to contact us to schedule a tour of our senior living community or to request more information on our retirement living options.