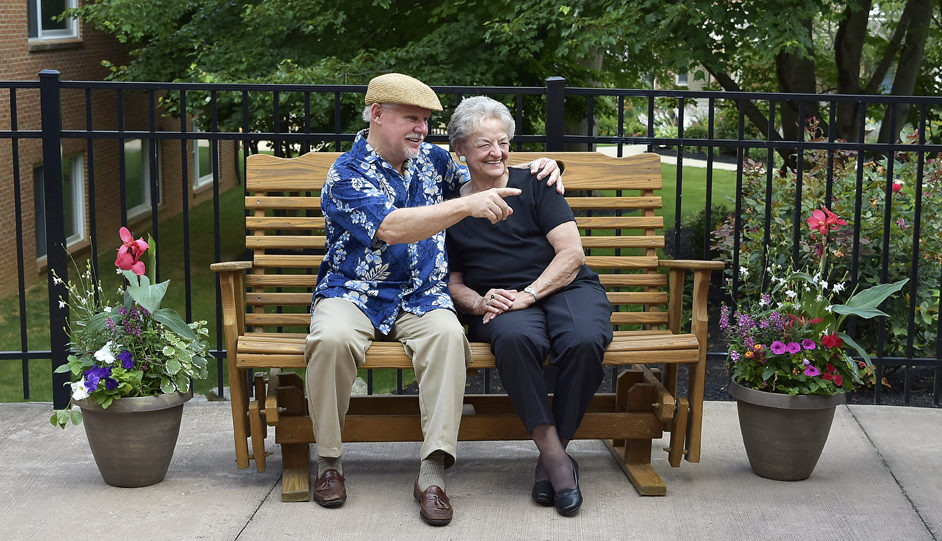 Summer may be nearly gone, but fall is an even better time to enjoy the beautiful outdoors at senior living communities. Cooler temperatures allow residents and visitors to enjoy comfortable, invigorating moments outdoors before the cold of winter settles in.
If you stop by for a visit to Brethren Village during autumn, you likely will see our resident seniors outdoors during temperate fall days—walking, biking or sitting and chatting with neighbors. You might also find some practicing on our putting green, competing on our bocce court or doing some pre-winter gardening.
But as temperatures begin to drop, even the most vigorous residents rely more on our complimentary shuttle service to transport them to on-site social activities at our retirement community. The shuttle also takes them to our shops and restaurants, as well as off-campus venues for shopping and medical appointments.
Village life in the fall—and all year long
Our seniors don't let up in their activity participation just because winter's chill is in the air. Residents have the opportunity to witness the beautiful fall foliage on a bus trip to Deep Creek, Maryland (Friday, October 13). Our Autumn Harvest Party (Thursday, October 19) will feature an Adult Pedal Tractor Pull, ice carving, a front-door decorating contest, and a chili cook-off. To some, the crisp air of fall lends itself to snuggling up with a good book. Many Residents do just that as they take part in our "Celebrating Great American Short Stories" Literary Roundtable Discussions. For others, the cooler air means leisurely bike rides around campus with the BV Bicycle Club. Additionally, BV's weekly walking club takes a trip off-campus once each month for trail walking in beautiful Lancaster County followed by breakfast.
If you are considering a scenic retirement community in Lancaster PA, we hope you will consider visiting our campus near Lititz, PA, which is lovely in every season. Here you will see residents living life to the fullest, enjoying a variety of social activities all year long. Please contact us to schedule a tour of our continuing care retirement community (CCRC) or for more information on our retirement living options.
We also offer fitness and wellness programs for seniors—Residents of our senior independent residential community, as well as those receiving supportive care. Supportive care refers to personal care services, our memory support neighborhood for dementia care and our long-term care facility (or nursing home) for skilled care services.
A quick and easy, perfect-for-fall recipe
Are you a fan of pumpkin? If so, enjoy the fall season with this refreshing, flavorful recipe:
1 16-ounce can pumpkin puree
2 cups milk
¼ cup brown sugar
2 teaspoons ground cinnamon
Place the pumpkin puree in a freezer bag; store in freezer for at least 24 hours.
Heat the bag of pumpkin puree in the microwave on high for 1-2 minutes to soften.
Pour the milk into a blender. Add the brown sugar, cinnamon and pumpkin; blend till smooth.
Then sip, savor and enjoy the beauty of autumn!