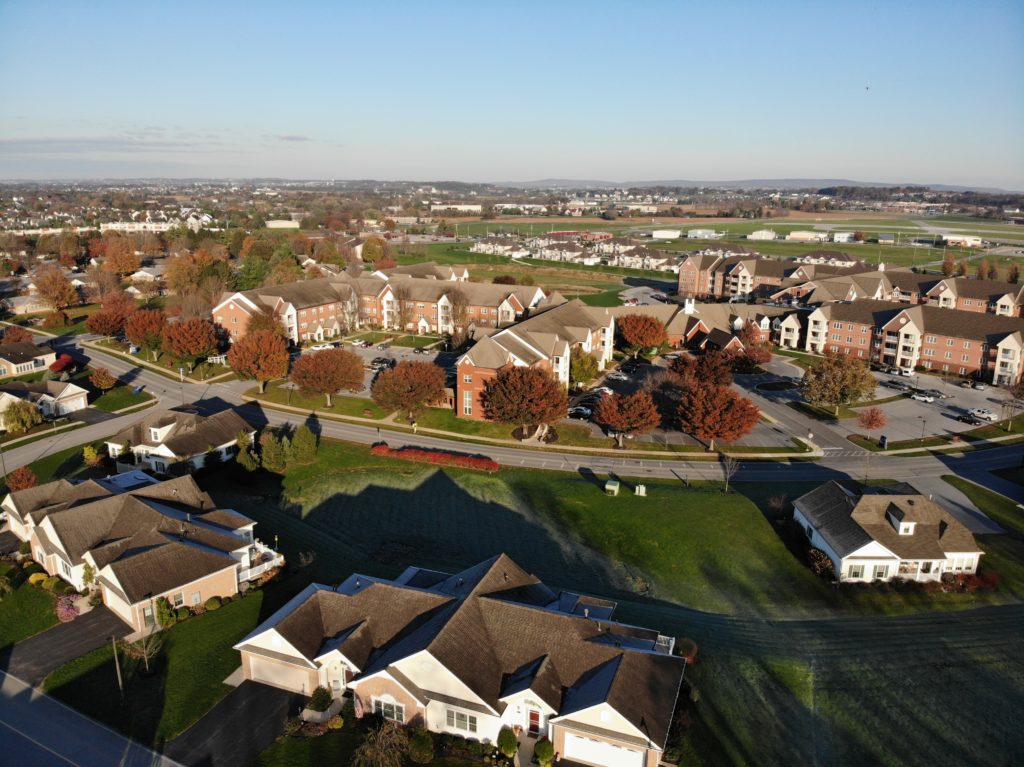 Featured Photo: Brethren Village Campus
When you dream of retirement do you picture beautiful white sandy beaches, deep blue waters and the feel of a warm, sea breeze? For years, Florida has been ranked as the number one destination for retirees. In fact, in 2018, Sarasota, Florida was the number one place to retire in the U.S. But not for long – the latest 2019 report from U.S. News and World Report named Lancaster, PA the best place to retire in the United States.
That's right. For the first time, seaside views have been replaced with picturesque farms, quaint towns and the sweet smell of country air. But what else motivates seniors to flock to Lancaster County by the droves? Perhaps it's the innumerable retirement communities built with amenities that often rival four and five-star hotels.
Why is Lancaster, PA the popular choice for Senior living?
 When you make the decision to retire, there are many factors to consider, including the availability of the quality of healthcare, cost of living, geographic location, and lifestyle amenities. Lancaster County hits the mark on every one. Retirement communities in Lancaster, PA offer some of the best healthcare in the United States according to the U.S. News and World Report survey.  This statistic alone offers peace of mind for healthy seniors as they take a comprehensive look at their future and potential healthcare needs. According to exploreretirementliving.org, while the cost of living continues to rise, Lancaster County continues to offer great value for the money.
For active seniors who like to travel, geographic location and lifestyle tend to be high on the list of priorities when considering senior retirement living. Lancaster, PA's central location to some of the area's most popular cities on the east coast; New York, Philadelphia, Baltimore and Washington make living here attractive because it's within a two-hour drive of any of these major cities, which gives active seniors the ability to take one-day trips and excursions.
The benefits of living at one of the best Continuing Care Retirement Communities (CCRC) in Lancaster County
 Nestled in the charming community of Lititz, PA, Brethren Village was named one of the best CCRCs in Lancaster County by Caring.com. A CCRC (Continuing Care Retirement Community), is also known as a life plan community. Most Residents start out at Brethren Village in independent living and as they age, Brethren Village has the care and accommodations that allow them to stay in the community and continue to get the help and care they need through every stage of life. A person in independent living may move into personal care,  memory support, or even skilled nursing, and there is supportive care for every Resident along their personal journey.
For more information about our CCRC in Lancaster County, ask us about our independent residential community or oursupportive care—whether in a personal care apartment, a skilled care nursing (long-term care) room, or our memory care facility and neighborhood (for dementia care).
Also, check out a few of our answers to frequent questions we receive from retirees and their families who are interested in senior living at Brethren Village Retirement Community. We hope you will contact us to request more information or schedule a tour of our CCRC.