How does living in a Continuing Care Retirement Community (CCRC) differ from living in my own home?
Living at Brethren Village is just like living in your own home. You come and go as you please, plus have the conveniences of on-campus services and amenities such as a pharmacy, bank and pool right in your own backyard. Should you ever need advanced care, our on-campus personal care, skilled care, home care and therapy services are here if you need them. What is better than living in a safe, secure and warm community environment?
How do I go about deciding which retirement community is right for me?
There are several pieces of information you should ask for when visiting a community. Comparing the marketing materials, residential service plans, financial plans, disclosure statements, resident contracts and resident handbooks of each community should give you enough information to make an informed decision. If you have a question about our community, just ask!
Do residents have a voice in how Brethren Village is run?
Yes. Residents have several ways to voice their opinion and make suggestions regarding the policies and procedures practiced by the Village. Our Residents' Councils meet monthly and give Resident Representatives the opportunity to share their thoughts and communicate with the management and team members of the Village. Quarterly Town Meetings are also held where financial, operational and strategic planning updates and opportunities are shared with all Residents.
Are there financial guidelines for entering Brethren Village?
Brethren Village is a community dedicated to providing care for the duration of our Resident's lives. Because of our commitment to this philosophy, there are financial covenants that are mutually agreed upon by the Resident and the Village before a Resident is admitted. Since there are many different financial factors considered when admitting a Resident, it is best to discuss your particular circumstance with a representative in our Marketing office.
What are the fees involved in moving to Brethren Village and what do they cover?
Brethren Village offers various Residential Service Plans including:
When moving into residential living, you pay a one-time entrance fee and a monthly service fee, that together, cover a lifetime lease on the residence of your choice plus living expenses such as utilities, home maintenance, security and use of the Village's programs and facilities. The entrance fee, monthly service fee and optional extended service fee varies by the size and style of the home you choose. As you advance through continuing care, your Residential Service Plan outlines the LifeCare Credit Benefits or per-diem rates designated for advanced care.
How do I get on Brethren Village's waitlist and how long do I have to wait to be offered a home?
The first step is to submit an application. The application will tell us what style and size of residence you are interested in and when you are thinking of making a move. We will invite you to campus for a personal consultation and informational tour. We will then contact you when an appropriate accommodation becomes available based on your standing within our waitlist. Accommodations are offered to people on our waitlist with the earliest application dates who are ready to move. The length of time between submitting an application and being offered a home varies by the accommodations. Feel free to Contact Us.
How soon do I have to move after accepting a home at Brethren Village?
You reserve your home at the Village by paying a reservation fee equal to 5% of the entrance fee. After reserving your home, there is a 3-month period before settling on the remaining 95% of the entrance fee and beginning to pay the monthly service fee.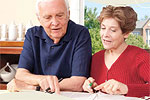 To schedule a tour of our retirement community, please Contact Us by calling our Marketing Department at 717-581-4227.