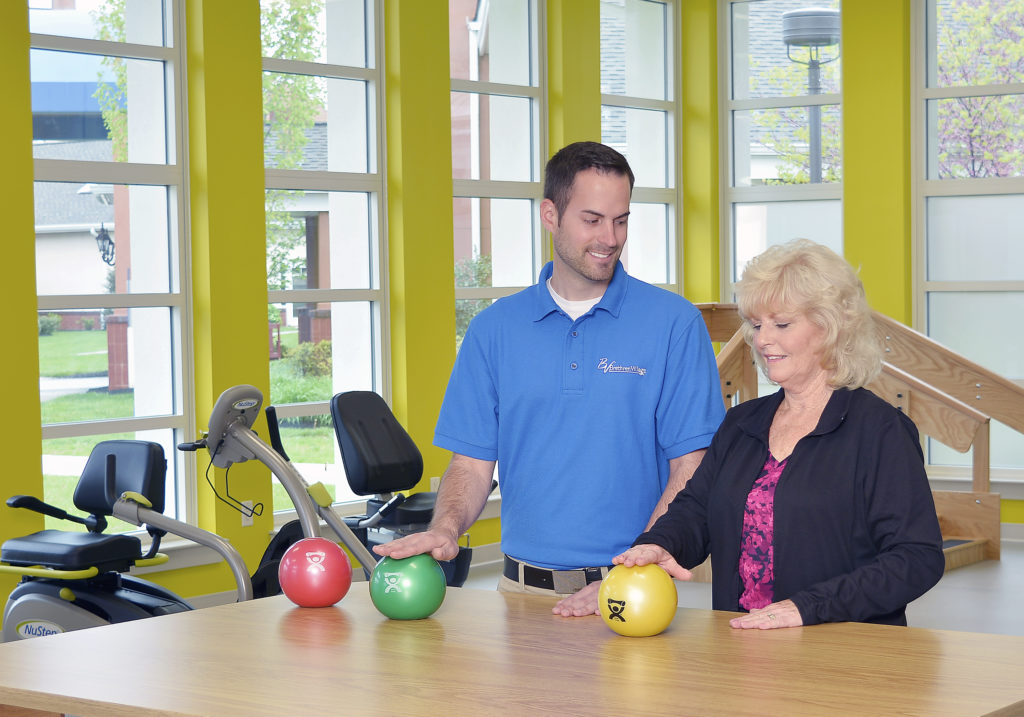 Physicians frequently recommend rehabilitation services for seniors and others following hospitalization due to stroke, serious injury, or surgery. Doctors also prescribe rehab therapy for people dealing with chronic pain or problems affecting mobility or balance.
At Brethren Village, our Transition of Care Services Team evaluates and treats our rehab patients—our own Residents, as well as people from the wider Lancaster County community. Our personalized approach to rehab relies on the expertise of a medical director; nurses; physical, occupational, and speech therapists; a therapeutic recreation specialist; and social workers.
We provide rehabilitation services in both an inpatient and outpatient setting for individuals on their journey toward recovery, helping them to make their daily activities easier—getting out of bed, bathing, walking, and going up and down stairs.
The Rehabilitation Center at Brethren Village offers complete short-term rehab
The freestanding Rehabilitation Center at Brethren Village opened in 2016 with 20 fully furnished, private rooms to bring comprehensive, short-term rehab services to both our Residents and non-residents. On average, our patients stay for 20 days or fewer.
At our Medicare-licensed center, our rehab team offers programs for neurological, cardiopulmonary, orthopedic, and complex medical conditions; comprehensive wound care management; physical, occupational, speech, and respiratory therapy; and a full range of balance, mobility, and cognitive exercises.
Often, before surgery, our rehab professionals will meet with patients to plan their care through their hospital stay, short-term rehab, and recovery at home. Along the way, our team provides customized educational resources to assist patients on the road to full recovery.
The rehab center's physical environment "brings the outside inside" with sunlight, outdoor views, and images of nature. Each suite features a bay window surrounded by natural stone tile walls to further create a healing environment.
All rehab rooms at Brethren Village have private baths and walk-in showers. The rooms also offer broadband Internet access, charging stations, smart TV with cable programming, adjustable closet space, and individually controlled room temperature. Both in-room and cafe dining are available for Residents.
Brethren Village is a Continuing Care Retirement Community
The care at The Rehabilitation Center complements services from The Courtyards at Brethren Village, our health care center for Residents needing long-term skilled nursing services.
If you're considering a move to a senior living community, we invite you to visit Brethren Village, a continuing care retirement community (CCRC) in Lancaster, PA. Our varied retirement living options include senior independent living as well as supportive care services—personal care in apartments or rooms, skilled care in our long-term care facility or dementia care in our memory support neighborhood.
We hope you will contact us to request more information or schedule a tour to learn all you can about our many services and features.