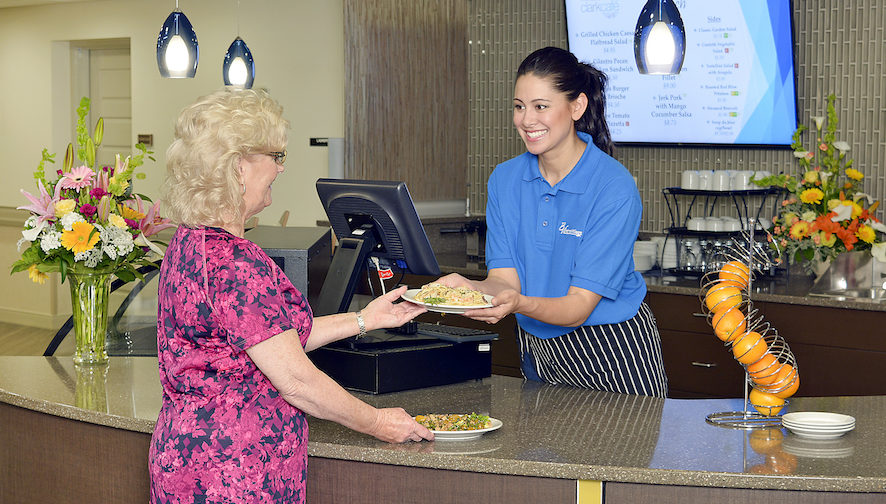 The best continuing care retirement communities (CCRCs) ensure that their residents experience the kind of retirement that perfectly suits their wants and needs. Though these senior living communities are skilled at meeting residents' physical and health-care requirements, they also are experts at knowing what day-to-day services residents wish to receive in their retirement years. The result is retirement communities that are definitely not old folks' homes—they're active folks' homes.
On-campus services at Brethren Village
At Brethren Village, we have created an array of concierge, or on-demand, retirement living options that provide on-campus convenience and comfort for our Residents. We have three Concierge Service desks, staffed by our kind and knowledgeable team members and located in our Welcome Center, our Village Center and our Fieldcrest building. The Concierge Team offers fax, copy and mail services; voting forms and ballots; Resident phone listings; dry cleaning services; trip reservations and gift certificates, to name a few.
Additional on-demand services are available in our bustling Village Center:
• Pharmacy – Our full-service pharmacy carries prescription and over-the-counter medications.
• Banking center – A bank branch delivers comprehensive services, including checking and savings accounts, trusts and safe deposit boxes.
• Beauty salon– Hair care for both men and women also include beauty services, such as dying, shampooing, styling and manicures.
• Stores – The Village Stores sell fresh vegetables, food, toiletries and other necessities and fulfill orders for special requests and home deliveries. There's also plenty of shopping on campus at our Gift Shop and Thrift Store.
Dining and transportation at Brethren Village
Brethren Village provides a variety of dining options for Residents and their guests. Retirees who live in our senior independent living community are welcome to cook for themselves if they want. However, they may also join fellow Residents at the "soon to be completed" Village Center Bistro (coming January 2017) in the Village Center, the Perkissimo Café in Fieldcrest, Chives American Grill or the Clark Café in our Short Term Rehab Center. Brethren Village Residents do not have to purchase a meal plan.
In addition, we provide complimentary shuttle service to on-campus locations and surrounding neighborhoods, including nearby shopping centers and grocery stores, Monday through Friday, and to our on-campus chapel service on Sunday.
This full range of senior living services is available to all of our Residents, including those receiving supportive care services—personal care in their apartment or room, skilled care in our long-term care facility or dementia care in our memory support neighborhood. All Residents have access to The Rehabilitation Center at Brethren Village, where they can get physical, occupational or speech therapy to address their particular health care needs.
If you have begun to consider a move to a retirement home, please visit our beautiful campus, near Lititz, PA, and discover why so many seniors proudly call it home. Contact us to schedule a tour or obtain additional information.