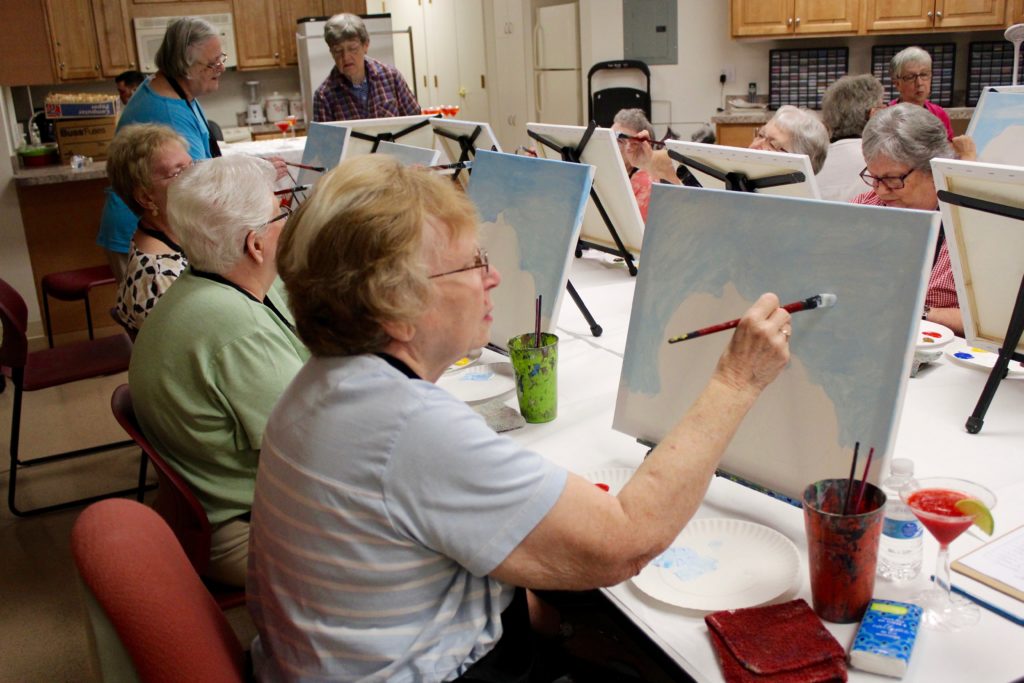 Residents of continuing care retirement communities (CCRCs) appreciate having a wide array of activities to enjoy—social, spiritual, creative, cultural, educational, recreational and physical. While some seniors like to continue a long-time hobby or interest, others discover new pastimes and hidden talents.
Over the past year, we have been working to expand and diversify the cultural and educational activities available to members of the Brethren Village community. Among our many programs for Residents and their families are musical performances, educational talks and opportunities for creative self-expression. These activities do more than simply entertain—they expand our Residents' minds and spirits as well.
At Brethren Village, our cultural activities expand our Residents' minds and spirits.
Cultural enrichment
Residents have the opportunity to "travel the world" without leaving Lancaster County! Through our Global Palate Lunch Series, Residents meet at ethnic restaurants in the Lancaster area each month to sample a different type of cuisine and engage in academic, cultural and spiritual discussions.
Literary enrichment
Our Poetry Class is open to all Residents who like to read, write and share poetry, while our Literary Roundtable reads and discusses short stories. Residents enjoy discussing the literature and how it intersects with their life histories. Both are great social activities as well.
Painting class
Area artist Molly Bingham, owner of Art for Everyone, (Facebook tag: @Artforeveryonelititz) leads Residents in expressing themselves through painting for sheer enjoyment, with no previous skill or experience necessary.
Performing arts
Residents on our Performing Arts Committee plan and host on-campus musical programs by vocal and instrumental groups, with music including classical, opera and religious.
Academic studies
In 2018, interested Residents can look back 50 years and participate in a campus-wide study of the year 1968, when the news was saturated with stories of Vietnam, assassinations and a presidential election. Guest historians will talk about national and international topics from that year, and we will show entertaining films that were released in 1968.
Elite Coach trips
Residents ride in comfort on  Elite Coach trips, which in the coming year will take us to Nashville, Tennessee, for a behind-the-scenes tour of the Grand Ole Opry. A trip to Pittsburgh is planned for the fall, with Residents deciding what activities and sights they will take in there.
We offer a variety of additional programs that are popular with Residents.
In addition to our cultural activities, Brethren Village Residents participate in a number of social activities at our friendly retirement community. These programs, as well as our wellness and fitness opportunities, are available to everyone who can participate.
If you or a loved one is looking for an active, fulfilling retirement community in Lancaster PA, we hope you will visit our lovely campus to see why seniors enjoy living here. Our residence options include senior independent living cottages or apartments; personal care apartments or rooms; and The Courtyards, our health center with a long-term care facility for skilled care and a memory support neighborhood for dementia care.
Please contact us to schedule a tour of our senior living community or for more information on our retirement living options.