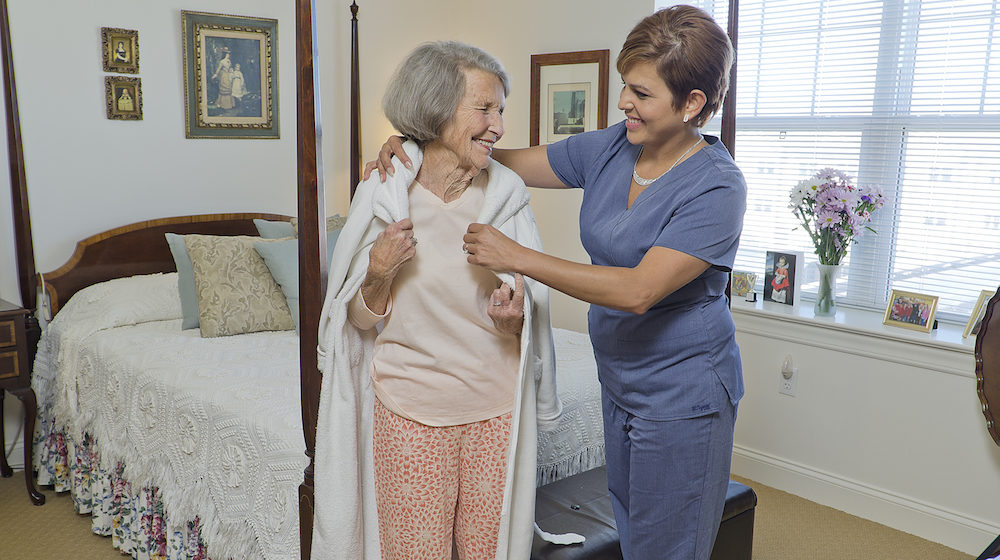 We often hear from seniors and their families that they feel relieved following the move to a personal care residence at our continuing care retirement community (CCRC). We get comments like "I'll never have to move again," "This feels like home" and "Everything I need is right here."
They welcome the alternative to living alone—the fellowship and friendship they find in senior living communities. And, they like knowing that if their health care needs change, they can receive a higher level of support from professionally trained, caring staff within their existing retirement home. Even seniors who move to personal care from our senior independent living community find comfort in knowing their day-to-day needs will be met in a pleasant, safe environment.
Many families struggle with the personal care decision or wait too long, only to later realize, "We wish we had done this sooner." They often discover greater family harmony when sons and daughters are free to be adult "kids" again and not Mom's or Dad's regular caregiver. Stress subsides for everyone.
When trying to decide if Mom or Dad would benefit from personal care services, families should ask themselves: Is she or he not eating well? No longer keeping a tidy home? Challenged by bathing and dressing? In need of help with medications? Getting sick and seeing the doctor more often? If "yes" is the answer to some of these questions, then Mom or Dad would likely have a better quality of life and families a greater sense of security and reassurance.
Following their move to personal care, seniors appreciate the assistance with bed-making, dressing, washing and bathing, dental care, hair care, shaving, eating and managing medications. We also provide housekeeping and laundry services. With personalized care plans, residents can retain their privacy and independence to the greatest degree possible. It's our "best-of-both-worlds" approach: fostering independence but being nearby to help if necessary.
Residents who value their privacy can rest easy that senior living staff will discreetly preserve their dignity while caring for their health and safety. This principle guides each of our Personal Care Team Members here at Brethren Village Retirement Community. Our Team Members are equally known for their compassion and attention to detail, as seen in their round-the-clock, individualized care and professional expertise in warm neighborhood surroundings.
Seniors who select Brethren Village's personal care community can choose between two lovely, comfortable residences—Terrace Crossing or Village Manor—with floor plans ranging from single or double home-like rooms to 900-square-foot apartments. All accommodations have a private, roomy bath; individually controlled heating and cooling; and plenty of closet space.
Our services cover daily, nutritious meals with friends in beautiful dining rooms; ongoing health and hygiene care; personalized support plans; physical speech and occupational therapy; housekeeping assistance; wellness programs; property maintenance and 24-hour security.
Our life-enhancing benefits include recreational, cultural and social activities; transportation on and off campus; fitness and aquatic facilities; chapel and pastoral services; and on-campus restaurants, stores, bank and library. All of these activities serve to remove a feeling of isolation that some seniors experience in their private home and to offer a variety of opportunities to communicate with peers.
If residents in personal care reach a point where they need increased daily assistance, they can move to our long-term skilled care facility or memory support neighborhood. Knowing these options are available reassures residents and their families, who know that any future health care concerns will be addressed professionally and compassionately within the Village.
If you're considering a move to a senior living community, we hope that you will visit Brethren Village Retirement Community in Lancaster, PA to learn all you can about our many services and features. In the meantime, here are a few answers to frequent questions we receive from interested seniors and their families. Please contact us to request more information or schedule a tour.