Daily fees paid while living at The Courtyards at Brethren Village include: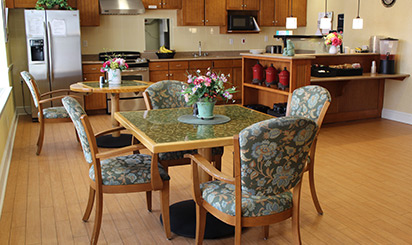 Private Room (with full bathroom) or Shared-Private Room (with full bathroom)
24-hour nursing services
24-hour staff supervision
All meals
Cleaning and laundry/linen services
Recreation activities
Social services
Extended cable television
Mail and notary services
24-hour security
Pastoral services
The Courtyards Memory Support Care Program
The Courtyards at Brethren Village offers a specialized unit for our Residents who are cognitively impaired and have memory loss. Individuals should have an established diagnosis of Alzheimer's disease and/or display cognitive impairments that affect normal social interactions or the ability to care for themselves. Individuals with an established diagnosis of other related dementias are also considered if they would benefit from the memory support care program.
The philosophy of care for people living in our memory support household is to provide an environment that supports and maintains individual abilities, along with the provision of providing a household environment based on the unique physical, emotional, behavioral and spiritual needs of each Resident. Family members are an essential part of our care team and will be offered support and education through our support group.
The Courtyards Post-Acute Care Program
The Courtyards at Brethren Village offers specialized services that make it an ideal setting for individuals needing a short-term stay to rehabilitate from complex disease, injury or surgery. Our Registered Nurse, Licensed Practical Nurse, and Certified Nursing Assistant Team Members are specifically trained to support the individualized care plans needed by Residents diagnosed for rehabilitative care.
One of our goals is to have Residents return to their highest level of independence as soon as possible. Our experienced on-site physical, occupational, and speech therapists work together in an integrated team approach with that goal in mind. Additionally, our therapists have specialized training in multiple clinical programs, allowing individualized treatment plans to be tailored to meet each Resident's specific needs. Through this approach, we are able to improve our Residents' quality of life and level of independence so they can return home safely.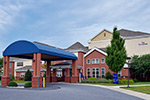 We also strive to make the admission and discharge processes as efficient and stress free as possible. For more information on The Courtyards Post-Acute Care Program, please call our Admissions Office at
717-581-4438.
or
Contact Us
.