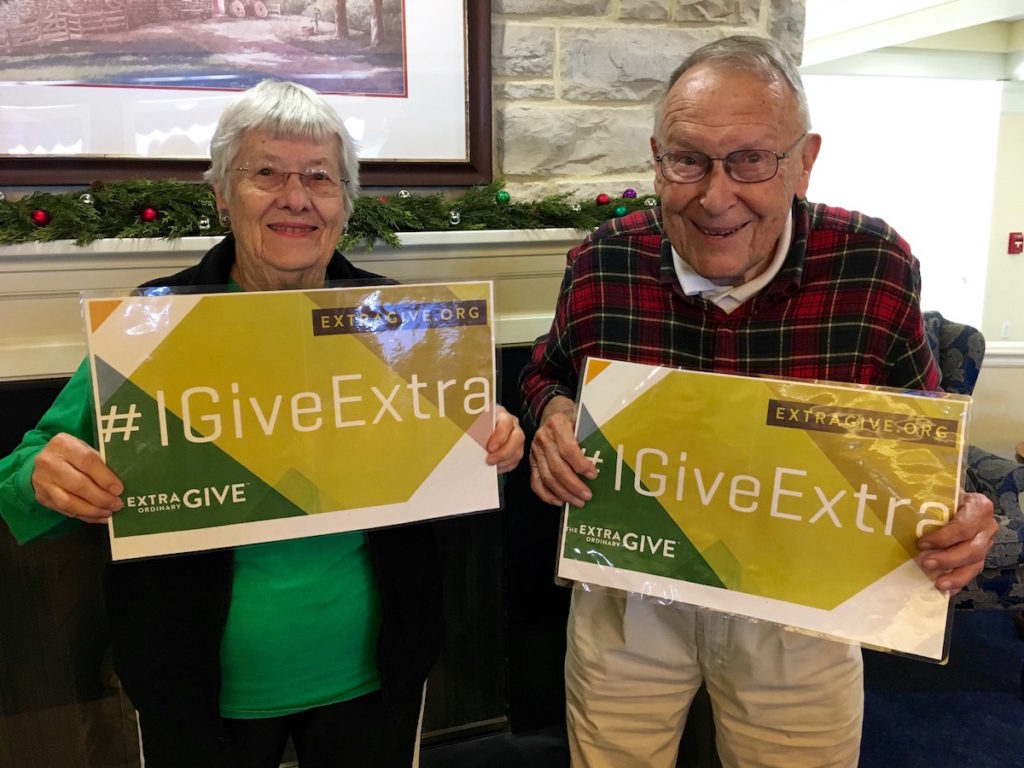 "We make a living by what we get. We make a life by what we give." – Winston Churchill
Lancaster countians will come together for the sixth straight year on Nov. 17 to raise money to support vital good works accomplished by more than 400 charitable organizations throughout our community. And, as in the past, we expect that the response will be truly extraordinary.
Last year, The Extraordinary Give raised nearly $7.1 million to strengthen many facets of our community. Since the first 24-hour fundraiser was held in 2012, it has raised $22.5 million for more than 500 organizations. It's truly amazing what we can accomplish when we combine our efforts toward a shared goal.
Want to participate? You will have the opportunity to make your gifts to The Extraordinary Give here on Friday, Nov. 17, from 12 a.m. to 11:59 p.m. You can give to one organization or as many as you like. If you don't know what to give the "person who has everything" this holiday season, why not support a local charitable organization with a gift in his or her honor?
The minimum gift is $25, and all donations must be made online at www.extragive.org. You will receive an emailed receipt for each tax-deductible contribution from the Lancaster County Community Foundation. Every dollar donated will be stretched by at least $500,000 from the Community Foundation, our presenting sponsors Rodgers & Associates, The S. Dale High Family Foundation, and other corporate sponsors. All participating organizations will receive a pro-rated portion of this "stretch pool" which will offset credit card provider and technology fees.
Many participating organizations, including Brethren Village, will hold special events on the 17th to highlight their involvement in Lancaster County's largest day of giving. Plus, two mobile units will tour Lancaster city and county that day to promote the event and encourage residents and workers to give. Prizes totaling more than $50,000 will be awarded to organizations.
Last year, Brethren Village was awarded a $1,000 Early Bird Prize. You can help us repeat that win by donating at midnight on Nov. 17, or email the Development Department at trineer@bv.org before Nov. 16 to provide your information and we'll take care of entering your gift for you at midnight. The Early Bird Prize is awarded to the first 10 organizations to receive 50 unique gifts (one instance of a name and one instance of a credit card number).
Join us as we partner with COBYS Family Services in hosting a giving station event at Brethren Village's Chives Restaurant (Fairview Drive, Entrance C) on the 17th between 11 a.m. and 1:30 p.m. Computers and assistance will be available for you to make your contribution. You can also take home a special treat and see how your favorite organizations are progressing with their fundraising.
Last year, Brethren Village raised over $20,000 for our Good Samaritan Fund, which provides benevolent care to our Residents who have no remaining financial resources. Your support can help us provide these deserving seniors with continued care and services.
If you or a loved one has thought about moving to a continuing care retirement community (CCRC), we hope you will schedule a visit to our spacious campus near Lititz, PA and learn about our retirement living options. Ask us about our senior living residential community or our supportive care—a personal care apartment or room, our skilled care nursing (long-term care) facility or our memory support neighborhood (for dementia care).
Check out our short-term rehab center, where we offer physical, occupational and speech therapy. And, be sure to dine in one of our four popular on-campus dining venues. We think you will see firsthand why so many retirees love living here.