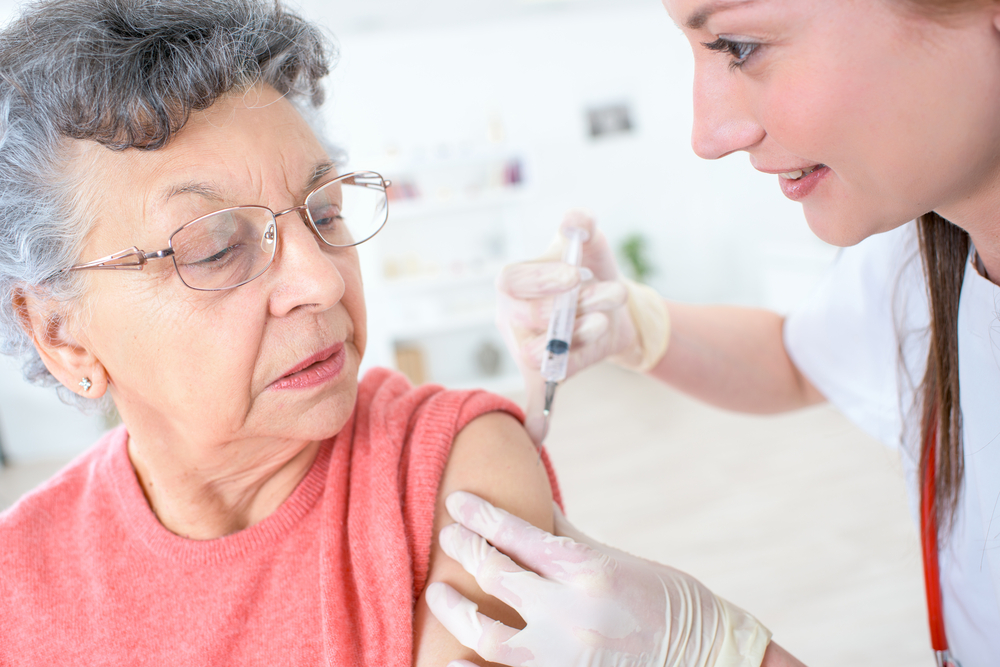 Seniors and people who are chronically ill are more likely to develop complications from the flu. It kills thousands of Americans each year, with a high percentage being older adults. Therefore, being knowledgeable about the flu and how to prevent it can save lives.
Though seniors may know the best protection is the flu vaccine, that doesn't mean they all heed the call to get a shot. They may procrastinate, forget or even question the merits of the vaccine. The Centers for Disease Control and Prevention (CDC) says that about 1 in 3 Americans over age 60 don't get a flu shot.
But, the vaccine has been shown to greatly reduce rates of hospitalization and death for seniors—whether living in their own homes, retirement communities or long-term care facilities (nursing homes). According to the CDC, in addition to the regular flu vaccine, a high-dose vaccine is also available just for people ages 65 and older.
Flu season generally begins around September and can extend into May. Getting the shot early helps the body build up immunity to the virus (a two-week process) sooner, but getting vaccinated anytime can still be helpful. The flu often peaks in February or later.
Know the symptoms and when to call the doctor
Knowing the flu's symptoms helps you monitor its effects and seek medical attention if needed. Common symptoms are fever, headache, fatigue, aches and pains, cough, sore throat and runny or stuffy nose. Stomach-centered symptoms, namely nausea, vomiting and diarrhea, can also accompany the flu.
If you have symptoms of the flu, get plenty of rest and drink a lot of liquids. Keep over-the-counter medications—pain relievers, fever reducers and antihistamines—on hand, but check with your physician before taking them as some can interact with prescription drugs.
If symptoms worsen or don't improve after three or four days, or if you have trouble breathing, contact your physician. Flu can lead to pneumonia, dehydration or complications of chronic conditions such as asthma, emphysema and heart disease, resulting in hospitalization.
The flu or a cold?
Don't mistake flu symptoms for cold symptoms. Though both are viral respiratory infections, a cold's symptoms are milder. With the flu, body and muscle aches are more common and body temperature can spike quite high; with colds, temperatures don't generally exceed 101 degrees. And while a cold might bring you down for a few days to a week, flu symptoms can last from a few days to a few weeks.
At Brethren Village, we take every precaution to protect our residents from the flu, particularly those receiving supportive care services—in personal care, long-term skilled care or memory support—but those in our senior independent living community as well.
If you're considering a move to a retirement community in Lancaster, PA, we hope that you will visit Brethren Village to learn all you can about our retirement living options and services. Please contact us for additional information or to request a tour of our campus.