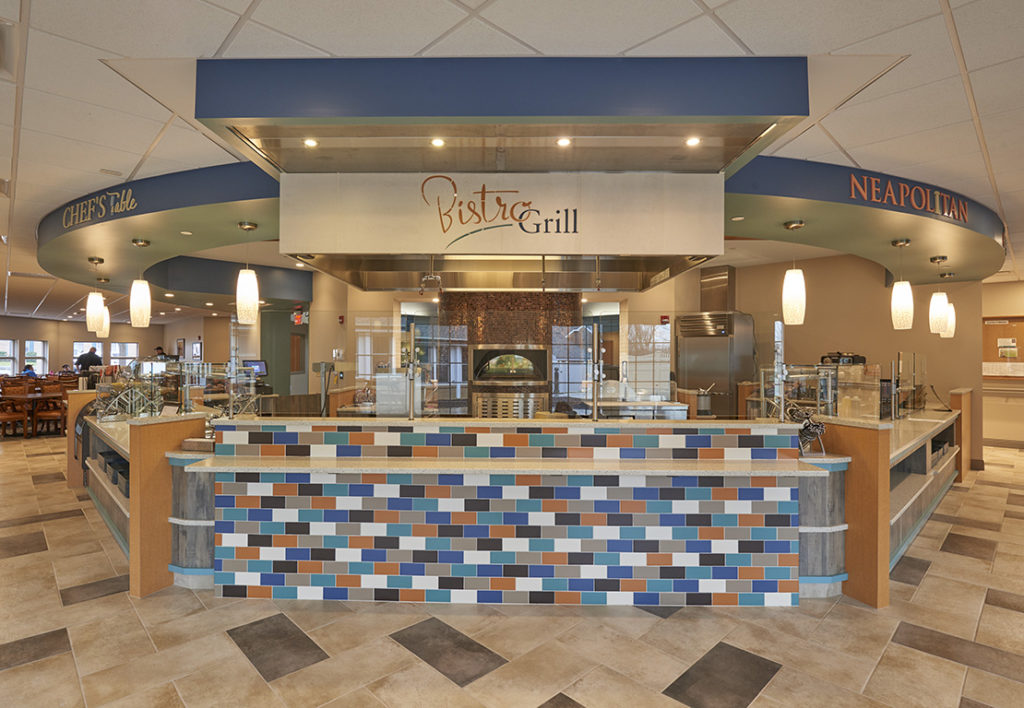 Eating at the best continuing care retirement communities (CCRCs) means abundant and healthy choices served in venues that accommodate your mood, be it a cozy café, a casual restaurant, or a formal candlelit dining room.
CCRCs today recognize that they serve seniors with varied backgrounds and differing tastes in food. The culinary staff at Brethren Village, led by professional chefs, offers high quality experiences that rival those of fine restaurants. By providing choices to satisfy everyone's palate, CCRCs help Residents feel comfortable, content and at home while eating.
Four different dining options at Brethren Village offer tasty, nutritious food
At Brethren Village Retirement Community, we offer four distinct dining choices in different surroundings designed to meet individual preferences and dietary needs. Our highly skilled chefs prepare a broad array of nutritious and delicious menu items drawing from their vast culinary experience as well as on suggestions from Residents of our senior living community.
To meet the standards set forth by The National Council on Aging (NCOA), our dieticians work with our culinary staff to ensure that meals are planned and prepared according the NCOA health and nutrition guidelines. Brethren Village exceeds those guidelines by offering healthy, high-nutrition meals that include lean protein, fruits, vegetables, whole grains, and low-fat dairy. We also offer foods that are high in fiber and Vitamin D and low in salt. Recognizing that seniors should drink plenty of fluids, water, tea, coffee, and other beverages are always readily available.
Brethren Village understands that Residents, along with their family members and friends, like having comfortable dining options that offer appetizing, reasonably priced food on our campus. Here is what you will find right here at Brethren Village:
Village Center Bistro – Casual setting for breakfast, lunch, and dinner; hot bar offering brick-oven pizzas and strombolis, grilled sandwiches, and entrées, with daily specials; freshly made salads and sandwiches prepared to your liking; sweet treats including ice cream sundaes and shakes, and homemade cakes and pies, complemented by coffee, tea, and soda.
Chives American Grill* – Casual dining with lunch and dinner prepared in an open-air exhibition kitchen, offering choices of soups, fresh-baked breads, salads, sandwiches, steaks, seafood, chicken, and more, plus an assortment of desserts and beverages.
Perkissimo – Walk-up coffee bar providing breakfast, fresh fruit, homemade pastries, grab-and-go lunches, and hot and cold beverages; drinks include espresso, cappuccino, and smoothies.
Clark Café – Bistro-style selections for take-out, made with the freshest ingredients, serving breakfast, lunch, and dinner. (Rehab patients and their families may dine in.)
*Every Saturday evening Brethren Village offers Chives by Candlelight. Enjoy a fine dining experience, complete with white table linens, fresh flowers, classical music, and, of course, candlelight. Choose from a wide range of culinary delights such as tender and juicy steaks, rack of lamb, seafood, chicken, and more! To keep you coming back featured selections change weekly.
The Bistro is in the Village Center, the Perkissimo Café and Chives American Grill are in Fieldcrest, and Clark Café is in The Rehabilitation Center at Brethren Village. To see menus for each of these choices, read about quality dining at Brethren Village and click on "View the Menu" for any of the dining locations.
Find out more about dining and living at Brethren Village
Though Brethren Village provides a variety of dining options for Residents and their guests, Residents of our senior independent living community are welcome to cook for themselves whenever they want. Brethren Village Residents do not have to purchase a meal plan.
Our meal selections, as well as our full range of senior living services, are available to all our Residents, including those receiving supportive care services—personal care in their apartment or room, skilled care in our long-term care facility or dementia care in our memory support neighborhood.
If you are considering a move to a retirement home or looking for senior care near Lancaster, PA, please visit our beautiful campus near Lititz and discover why so many seniors love calling it home. Contact us to schedule a tour or obtain additional information about our retirement living options.