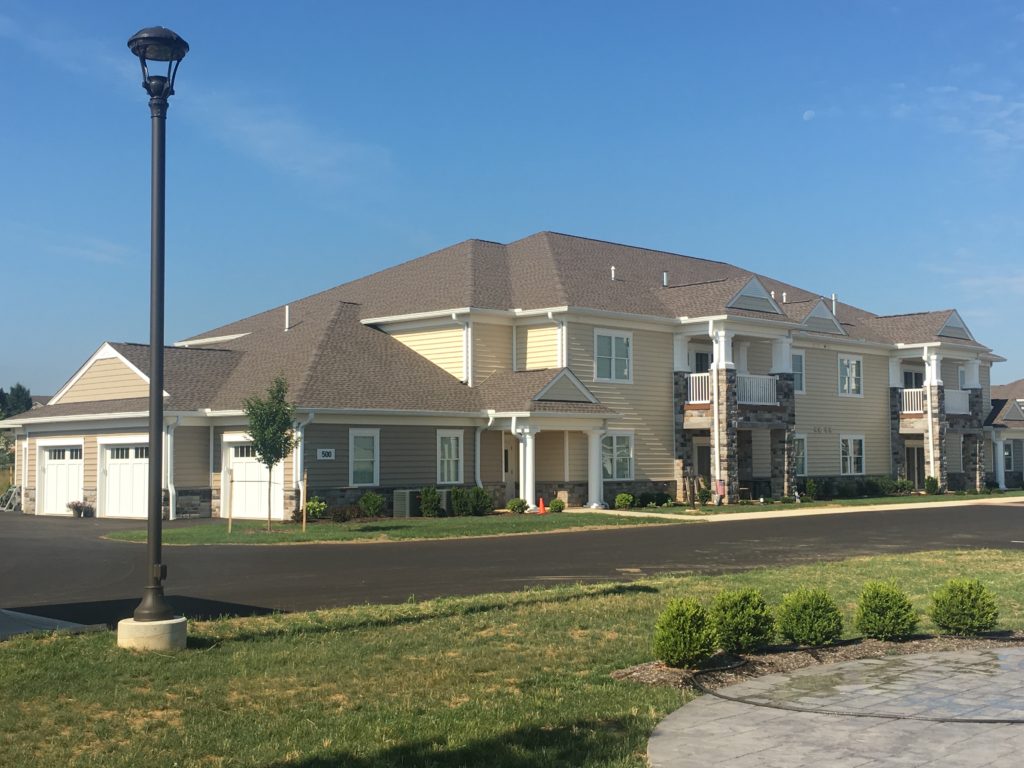 Northside Court, Brethren Village's new senior independent living community, is now open and fully occupied by residents enjoying contemporary apartment living. The 72 private apartments within the complex offer privacy, style, and plenty of space inside and outside.
With Northside Court, Brethren Village introduces a new retirement lifestyle choice to its continuing care retirement community (CCRC). by blending apartment living within a cottage-like environment. Each of the nine buildings has just eight apartments, four on each floor. Each unit features a patio on the first floor or a balcony on the second floor, enabling residents to enjoy the natural beauty of this village within the Village.
Senior apartments with garage and added storage
All the apartments come with an amenity rarely found in senior apartment communities—a private garage with ample space for a car, as well as a storage space. That was a major selling point for Bill and La Verne Hyman, who formerly lived in the Akron area of Lancaster County. "We really like our private garage and storage area," says La Verne, "and the outdoor space is great. We had our entire family here for a picnic on Memorial Day weekend."
After living in a house in the woods for 56 years, Bill appreciates the privacy of their chosen location within Northside Court. He also enjoys their proximity to downtown Lititz plus the apartment's layout. And the putting green—he likes that a lot!
Inside each home at Northside Court is a stylish, roomy apartment with a full-size kitchen with island, large living and dining area, two bedrooms, two full baths, walk-in closets, and full-size washer/dryer. With three spacious floor plans, the apartments range from 1,240 to 1,428 square feet.
Senior independent living in a personalized apartment
Residents of the brand-new apartments have had the opportunity to personalize their homes, choosing among decorating elements including flooring and carpet; paint colors; lighting fixtures; granite kitchen countertops; and tile, cabinets, and plumbing fixtures in the kitchen and bathroom.
Outside, Northside Court is easily recognizable by its lovely boulevard surrounded by a landscape of plants, trees, and benches bordering the walkways. This tranquil setting is ideal for walking dogs and hosting family and friends outdoors. Northside Court has its own entrance from Airport Road and easy access to Brethren Village's cafes and restaurants, fitness centers, aquatics center, and other campus services.
Retirement community activities with every interest and ability in mind
Like their fellow retirees at Brethren Village, Northside Court residents are enjoying their homes as they explore and discover all that Brethren Village offers them. They awaken each day to a broad range of recreational and social activities designed with their needs and interests in mind.
 At Brethren Village, Residents can choose from a long list of hobbies and pastimes, ranging from crafts to music, from fitness to gardening, and more. Seniors of every lifestyle and care level learn, grow, and socialize with neighbors who enjoy the same pleasures they do. This includes those residing in senior residential living cottages or apartments, as well as those receiving supportive care—in personal care apartments or rooms, in skilled care at The Courtyards (our long-term care facility), or in our memory support neighborhood for dementia care.
Our Residents who can no longer drive or walk to on-campus activities can take our complimentary shuttle service anywhere on campus, and also to off-campus locations nearby, such as shopping centers, grocery stores, and doctors' offices.
If you or a loved one is considering senior living at a retirement community, we hope you will visit our serene but bustling campus, near Lititz, PA, and see why so many seniors enjoy life here and call it home. Please schedule a tour or contact us for more information on our variety of retirement living options.