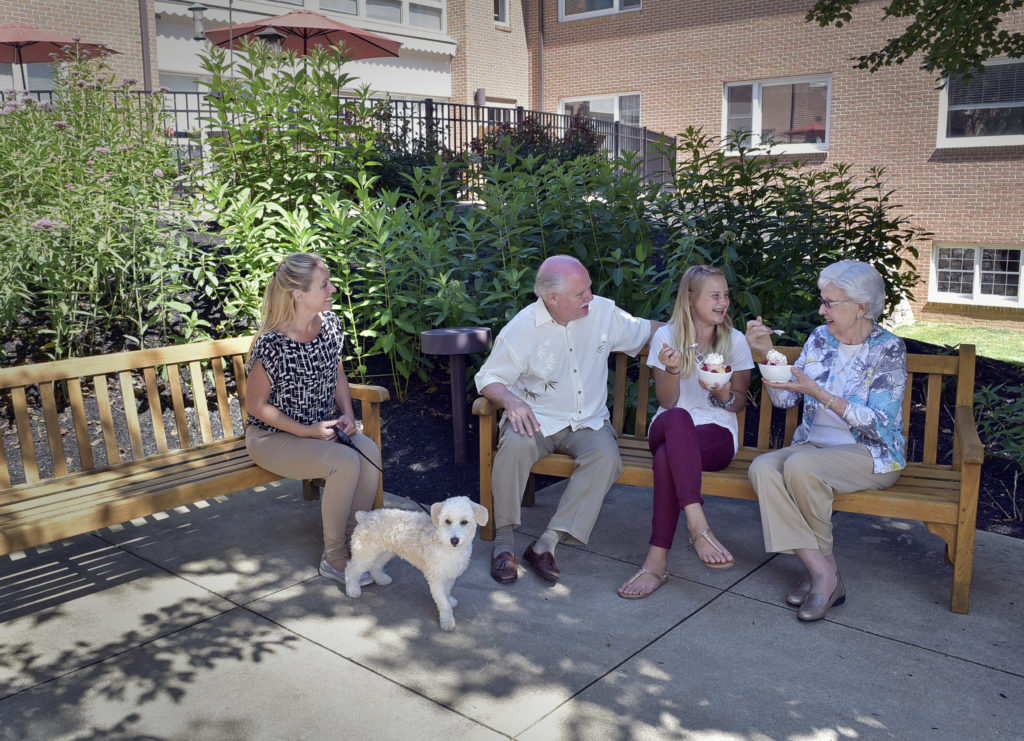 Americans are expected to spend a record $25 billion to honor their mothers on May 12, according to the National Retail Federation. For fathers, more than $15 billion will be spent for their day on June 16.
The most frequent ways to celebrate both are with cards, gift cards, and outings (dinner, concerts, sporting events), as well as flowers for Mom and clothing for Dad.
These are all great ideas, and we have a few tips of our own to make these special days enjoyable and rewarding. The staff at Brethren Village continuing care retirement community (CCRC) has 122 years of experience in knowing what seniors like and value. Here are some examples:
Care packages or gift baskets – You can fill these with everyday items that would be useful and appreciated. Consider creating a themed gift, such as:

lotions, shampoos, and soaps
coffees, teas, and biscotti or tea cake
seeds, plants, and flowers for planting
chocolate, nuts, and dried fruits
jellies, jams, and flavored butters
baseball tickets with peanuts and Cracker Jack—or another favorite ballpark-style snack

Family photos – All parents and grandparents enjoy nicely framed pictures of their children and grandchildren to display. Or, compile your candid photos and present them in a photo album that Mom or Dad can look through year round.
Brethren Village gift cards – A popular option here is our own gift cards that can be purchased on our website for use at our gift shop, beauty shop, grocery store, thrift store, and restaurants. It may be the most practical gift you can buy for a Resident of Brethren Village!
Brethren Village Mother's Day Buffet – Every year, hundreds of family members and their moms enjoy our bountiful Mother's Day Buffet at Chives. Check out our menu and call 717-581-4350 to reserve your table.
Brethren Village is a family-focused CCRC in Lancaster County, PA
At Brethren Village, we strive to support multi-generational family activities. We have a number of common areas—indoor and outdoor—where families can visit privately or celebrate family birthdays or anniversaries. Many families enjoy gathering and taking a leisurely walk around our meticulous grounds, look at photos, or chat with each other over a shared meal. Brethren Village Residents especially welcome visits from grandchildren, who are a source of pride and add a spark of energy to family visits.
If you or a loved one is considering senior living at a family-focused retirement community, we hope you will visit our lovely campus in Lititz, Lancaster County, PA. We think you will  discover why so many seniors enjoy living here. Ask us about our CCRC's independent residential community or supportive care residences—in a personal care apartment or room, in our skilled care nursing (long-term care) facility, or in our memory support neighborhood (for dementia care).
Please contact us to schedule a tour or for more information on our retirement living options.