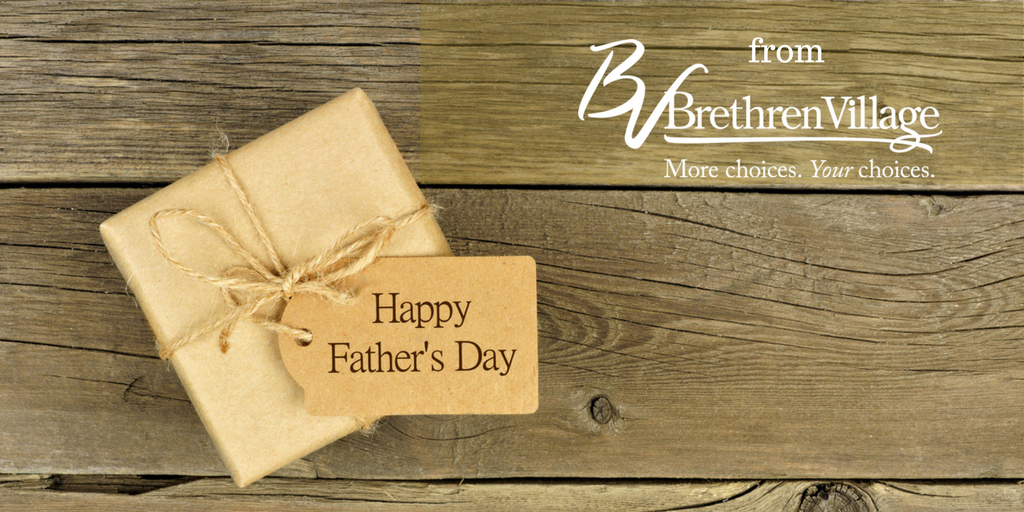 For many families with older parents, deciding how to celebrate Dad on Father's Day is a bigger challenge than how to honor Mom on Mother's Day. But fathers appreciate special remembrances, too.
Today, we have more options for gifts for Dad than ever before. Did you know you can get him a grocery list organizer? It attaches to the refrigerator, is voice activated and would print out his list at the touch of a button. Or an email printer? He could receive email messages and photos even if he doesn't have a computer, allowing him to easily stay in the family loop.
Here are a few more ideas for gifts or special activities that Dad might appreciate, whether he still lives in his private home or in a cottage or apartment at a senior living community.
The practical dad
Razor subscription service
Gift card (for car washing/detailing, dry cleaning, yard maintenance, housecleaning)
Basket with hobby supplies
TV listening headset
Weather monitoring system
Digital key finder
The health and safety-conscious dad
Bathtub/shower grips
Compartmentalized pill organizer
Shopping cart with seat
Combination garden kneeler/seat
Automatic playing card shuffler
Electronic massage pillow
The sentimental dad
A journal to record his memories, thoughts and activities
A family photo album
His favorite home-cooked meal
A family picnic (If he has ambulatory issues, hold an indoor picnic!)
Playing a favorite board game or card game with him
A walk-and-talk through a park or his retirement community
Watching his favorite sports program or movie together
Of course, your activity options may be limited if he has mobility difficulties. What is most important is that you remember him in a way that will let him know he is loved and appreciated on Father's Day and through the year.
Dads and moms find a home here
At Brethren Village, we care for fathers and mothers as if they were our own. If you think your parents could benefit from living at and participating in the activities of a retirement community in Lancaster, PA, we invite you to visit our retirement home. Our family-focused senior living community offers several retirement living options in senior independent living and personal care. Here you will find comfortable accommodations with a private, roomy bath; individually controlled heating and cooling; and plenty of closet space.
If your father or mother has special health care needs, we offer skilled care (at our long-term care facility) as well as memory support (dementia care). You can rest assured that these supportive care options are available, so that future health care needs can be met professionally and compassionately while remaining at Brethren Village.
We hope you will visit Brethren Village Retirement Community in Lancaster, PA to learn all you can about our campus, caring staff and variety of services. Until then, here answers to frequent questions asked by interested seniors and their families. Please contact us for more information or to schedule a tour.