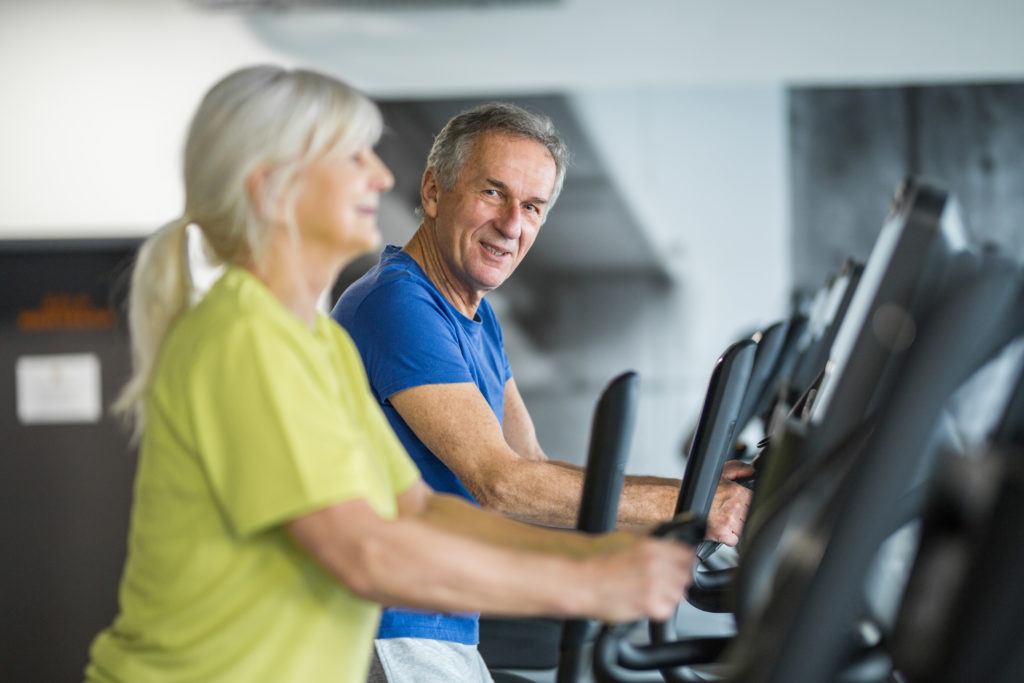 Colder temperatures don't have to mean winter hibernation for retirees with so many indoor exercise options available. Today's seniors have the advantage of handy fitness opportunities to help maintain their health, particularly if living at a senior living community.
Fitness activities have a number of physical health benefits: they can help prevent osteoporosis and arthritis; reduce risk of stroke, heart disease, cancer, and injury; and manage arthritis, blood pressure, cholesterol, and weight. But exercise has advantages for mental health as well—it can improve mood, increase self-confidence, and reduce the risk of dementia.
A sedentary or inactive lifestyle is a leading cause of death and disability. That's why the Centers for Disease Control and Prevention (CDC) recommends that healthy people 65 and over do cardiovascular exercises several times every week for a total of 150 minutes or more.
This can be accomplished during personal or group fitness routines (strength training, swimming, aerobics, tai chi, and yoga) or day-to-day tasks (brisk walking, going up stairs, gardening, yardwork, and household chores). We recommend that seniors embarking on new physical activities first see their physician because some activities could cause problems for those with chronic conditions.
At Brethren Village's senior living community, wellness for seniors is a top priority
At Brethren Village, we strongly encourage fitness and wellness for seniors. We have two fitness centers, so cardiovascular exercise and strength training opportunities are always nearby. Both feature weights, treadmills, ellipticals, rowing machines, and stationary bikes. Our Residents can meet with a Wellness Department Team Member for orientation to the equipment and get a fitness assessment and personalized training program.
Residents of our senior living community can independently use the fitness centers or participate in supervised activities. We offer free exercise classes to Residents Monday through Saturday. These fun-focused sessions aim to improve balance, flexibility, endurance, and strength. Our group activities include yoga, balance, stretching, strength training, and walking. We also conduct sessions for chair yoga and chair aerobics for those who have difficulty standing.
Many of our seniors who wish to remain fit and healthy enjoy swimming or other water activities at our aquatic center. The 88-degree indoor pool and 99-degree whirlpool hot tub provide relaxation and therapy for Residents during all seasons.
Residents with chronic conditions (e.g., arthritis, joint pain, and circulatory issues) find that water therapy gives them soothing relief. Because a person's buoyancy in water reduces the impact on joints, seniors can exercise longer without pain.
Water fitness also helps seniors increase muscle mass and strength, flexibility, balance, and bone density. Swimming and water exercise are good cardiovascular exercises, too, and can help lower blood pressure and cholesterol levels.
Our senior living community offers fitness, wellness and so much more
If you think you may be interested in moving to a retirement community with a gym and pool, we hope that you will visit Brethren Village to see them for yourself. Our retirement living options and amenities are available to all Residents of our senior living community who can participate.
We hope you will contact us to request more information or schedule a tour of our senior living community at Brethren Village in Lititz, near Lancaster, PA.