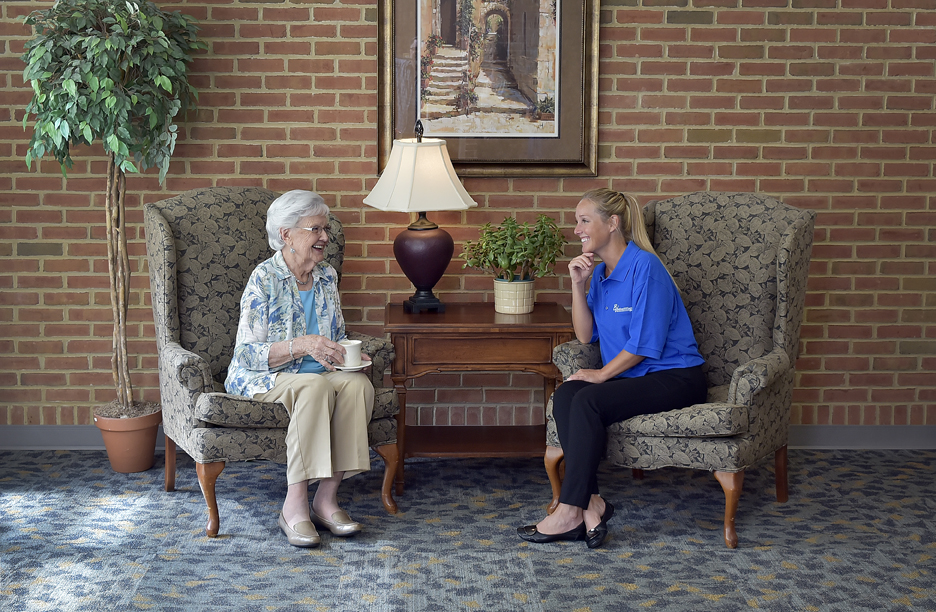 The growing population of today's seniors is more active, healthier, and will live longer than any generation in history according to a 2019 Forbes magazine article, "A New Snapshot of Older Adults in the U.S."
But there are times when life brings change to active, healthy seniors requiring them to look for support in an environment that is safe, caring, knowledgeable and in tune with their changing lifestyle needs.
If completing routine daily activities of daily living (ADLs) like bathing, dressing, and personal grooming is becoming increasingly difficult without assistance, it may be the right time to consider personal care.  This doesn't mean giving up personal choices.  It means choosing to live in a senior living community of trained health care professionals who understand the aging process and encourage independence and meaningful living.
Respect and attention to individual needs
Before a Resident moves into personal care at Brethren Village, one of our highly trained professional team members performs a wellness evaluation.  This ensures that the right level of care is provided from the very start. Then, we continue to reevaluate and enhance our personal care plans on a consistent basis. Our commitment is keeping Residents healthy, happy, safe, and comfortable every day.
Personal care with a commitment to health, safety, and wellness
We ensure that our Residents eat well and have access to foods rich in proper nutrients. They receive three, chef-prepared meals every day.  These well-balanced meals are designed in collaboration with our registered dietician to ensure proper nutrition at all stages of life. Our licensed nurses provide round-the-clock care and pay special attention to monitoring and administering medication.  And, if our Residents' health care requirements should change, they receive priority access to the continuum of care within our CCRC (continuing care retirement community).
A healthy body and mind contribute greatly to happiness and longevity. We have designed daily activities on campus for Residents to stay engaged at all levels.  For those who like working with flowers and vegetables, our Resident gardens are a perfect fit.  For others who prefer engaging in more physical activity, we have campus fitness rooms and classes as well as aquatics to enjoy year-round in our indoor heated pool.
For Residents who want to express their more creative side, we schedule campus workshops and regular activities on a variety of arts and crafts. To read more about all we offer, see our previous blog post on the joy of senior residential living.
Personal care begins with respect.  At Brethren Village, we believe our Residents deserve to live every day with vitality and dignity without compromise. Our personal care team is focused on enhancing the lives of Residents by enabling them to be the unique individuals they are meant to be. Our team of skilled caregivers has specifically designed our personal care programs with our Residents' needs in mind every step of the way.
Senior living in Lancaster County
Nestled in the heart of Lancaster County, Brethren Village is designed as a neighborhood community with all the comforts of home. As a CCRC we offer a broad range of appropriate care levels, residential lifestyles, and activities to meet the needs of all Residents.
For more information on personal care and other levels of senior living offered in a friendly, warm environment, contact us or schedule a visit with one of our team members.