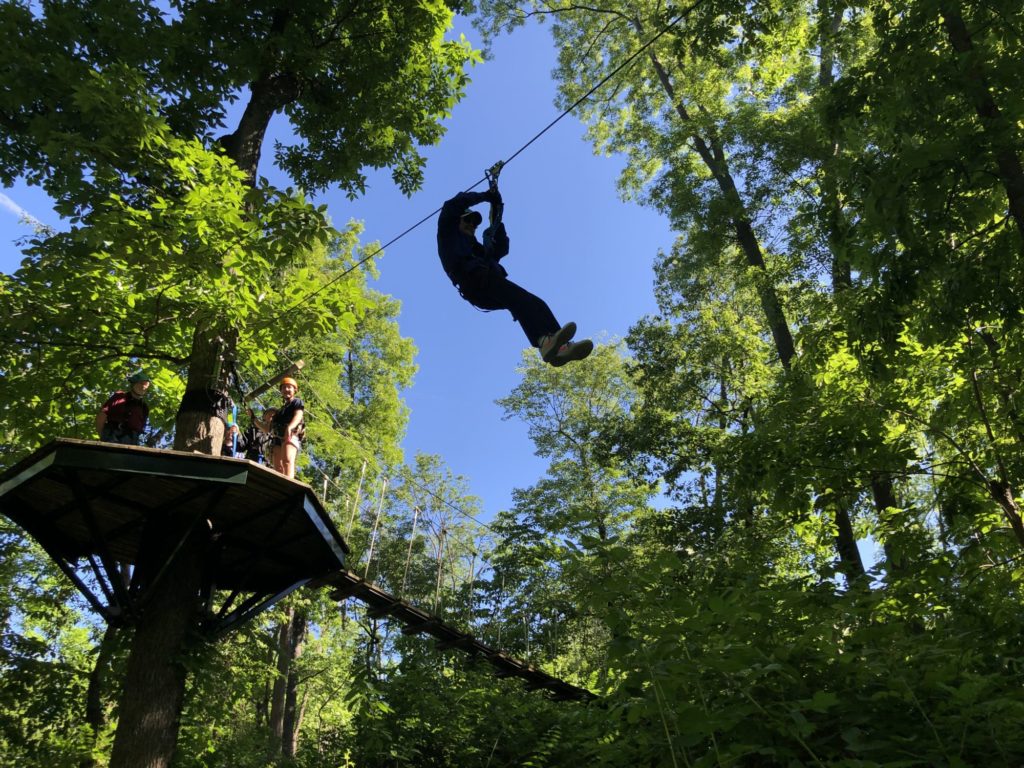 Senior residential living at the best continuing care retirement communities (CCRCs) offers independent older adults multiple choices in how they want to live and spend their time.
At Brethren Village, our hope is to enrich the life of each person who decides to reside in our vibrantly social senior community. Words spoken by Eleanor Roosevelt beautifully summarize our philosophy toward senior living: "The purpose of life is to live it, to taste experience to the utmost, to reach out eagerly and without fear for newer and richer experience."
Residents of Brethren Village can greet each new day from the comfort and security of their homes, looking forward to enjoyable social and recreational activities that await their participation.
We have something for everyone here—even ziplining for our adventurous Residents!
Choose from dozens of activities at our senior residential living community
Our Residents like having so many different activities and programs to choose from, giving them varied opportunities to learn, laugh, stay fit, and nurture friendships. Here is a sampling:
Hobbies and skills – painting, ceramics, sewing/quilting, jewelry making, needlework, cooking, gardening, model trains, woodworking, and investment club
Social entertainment – movie nights, coffee house, neighborhood picnics, dances, chartered trips, cards, board games, campus-wide entertainment, lawn concerts, and pop-up dining events
Fitness – exercise and fitness classes, adventure trips, bocce, golf, yoga, swimming and water fitness, pop-up fitness activities, ping pong, shuffleboard, walking, bicycling, and qigong (like tai chi)
Culture and education – ethnic cuisine lunch series, travelogues, technology courses, lectures, book discussion groups, progressive dine-arounds, art courses, New Year New You education series, traveling bookmobile (partnership with Lancaster County Library Systems)
Spiritual enrichment – weekly worship, devotions, Bible study, hymn sings, visiting musicians, exploration of theological background series, and special religious services
Volunteering – Our robust volunteering program hosts the Holiday Bazaar and Cookie Sale and staffs the Gift Shop, Village Stores, Thrift Shop, and Village Library, as well as many other meaningful opportunities to interact on campus.
Select your residence style at our independent residential community
Newcomers to Brethren Village are delighted to learn of the choices they have in the size, style, and setting of their home. They have the options of one- or two-bedroom senior apartments, cottage living, or private apartments with garages at our new Northside Court (our "village within the Village"). Retirees select from several residential living floor plans to find the convenience and comfort that suits them and from residential service plans to meet their individual needs.
Don't feel like cooking? Then be our guest
Brethren Village independent living Residents also enjoy having three excellent restaurants at their fingertips for those times when they want to dine out nearby. The Village Bistro in the Village Center recently joined Chives American Grill on our campus, both offering delicious meals at reasonable prices. In addition, Clark Café, located in our Rehabilitation Center, is available for take-out. (The dine-in option is for rehab patients and their visitors.)
Peace of mind at a continuing care retirement community
Brethren Village is a continuing care retirement community (CCRC), meaning people can begin with senior residential living and move to supportive care if the need should arise. Remaining in one community with guaranteed lifetime housing provides seniors and their families with relief from worry about the future.
If you or a loved one is considering senior living at a retirement community, we hope you will visit our active and picturesque campus near Lancaster, PA, and see up close why so many seniors enjoy calling Brethren Village home. Please contact us to schedule a visit or for more information on our retirement living options.