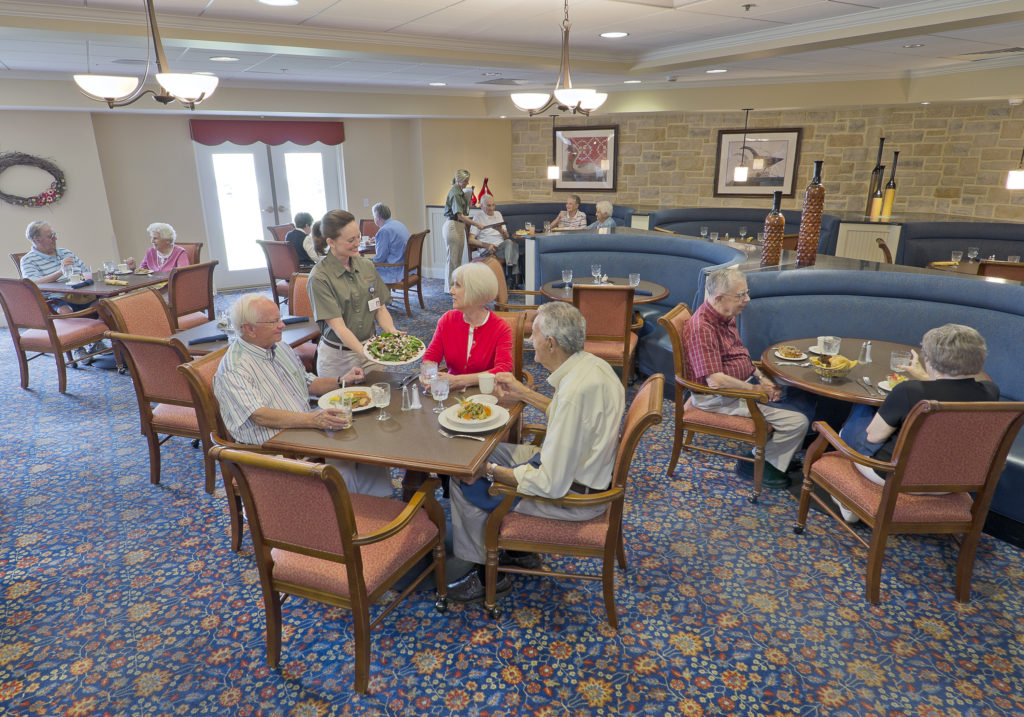 Eating healthy foods is vital to older adults' energy, strength, and well-being. At a time when metabolism slows and fewer calories are needed, good nutrition remains as essential as ever to overall health. Generally, this means a diet rich in vitamins, minerals, and protein.
The dietitians at Brethren Village, with input from the National Council on Aging, suggest following these five guidelines for choosing healthy foods for active senior living.
Be familiar with what makes a healthy plate. – A healthy plate is a mix of 50 percent vegetables and fruits and 50 percent grains and proteins, along with some dairy as well. The U.S. Department of Agriculture has more information at ChooseMyPlate.gov.
Look for important nutrients. – In addition to fruits and vegetables, choose whole grains (brown rice, whole wheat), lean protein (beans, eggs, fish, lean meats), low-fat dairy, and foods low in fiber and salt.
Read Nutrition Facts labels. – These labels on foods can help you select options lower in fat, salt, and added sugars and identify important vitamins, minerals, and protein.
Use recommended servings. – To maintain proper weight, eat suggested amounts of foods. See the American Heart Association's chart on "Suggested Servings from Each Food Group" (based on a 2,000-calorie daily diet).
Stay hydrated. – Drink fluids throughout the day to avoid dehydration, which can lead to serious medical issues.
Nutrition at Brethren Village is planned with wellness for seniors in mind
At Brethren Village, our dietitians work with our culinary staff to prepare meals according to health and nutrition guidelines from the National Council on Aging. Brethren Village actually surpasses those guidelines with healthy, high-nutrition meals featuring a balance of the "healthy plate" foods.
We also offer foods that are high in fiber and Vitamin D and low in salt to foster wellness for seniors on our campus. And, because seniors should drink plenty of fluids, we make water, tea, and coffee easily available.
At Brethren Village, we realize our Residents have varied backgrounds and differing tastes in food. By providing choices to satisfy everyone's palate, we strive to help them feel comfortable, content, and at home while dining. Our culinary staff, led by professional chefs, prepares a broad array of nutritious and delicious meals, drawing from their vast experience as well as food suggestions from Residents.
Eating at Brethren Village means abundant and healthy choices served in locations including a cozy café, casual restaurant, and a more formal dining room.
Discover more about dining and living at Brethren Village
Though Brethren Village provides a variety of dining options, many Residents of our senior independent living community often enjoy cooking for themselves. Residents of Brethren Village Retirement Community do not have to purchase a meal plan.
If you are considering a move to a retirement home or looking for senior care near Lancaster, PA, please visit our beautiful campus near Lititz, where wellness for seniors is our priority. Contact us to schedule a tour or obtain additional information about our retirement living options.