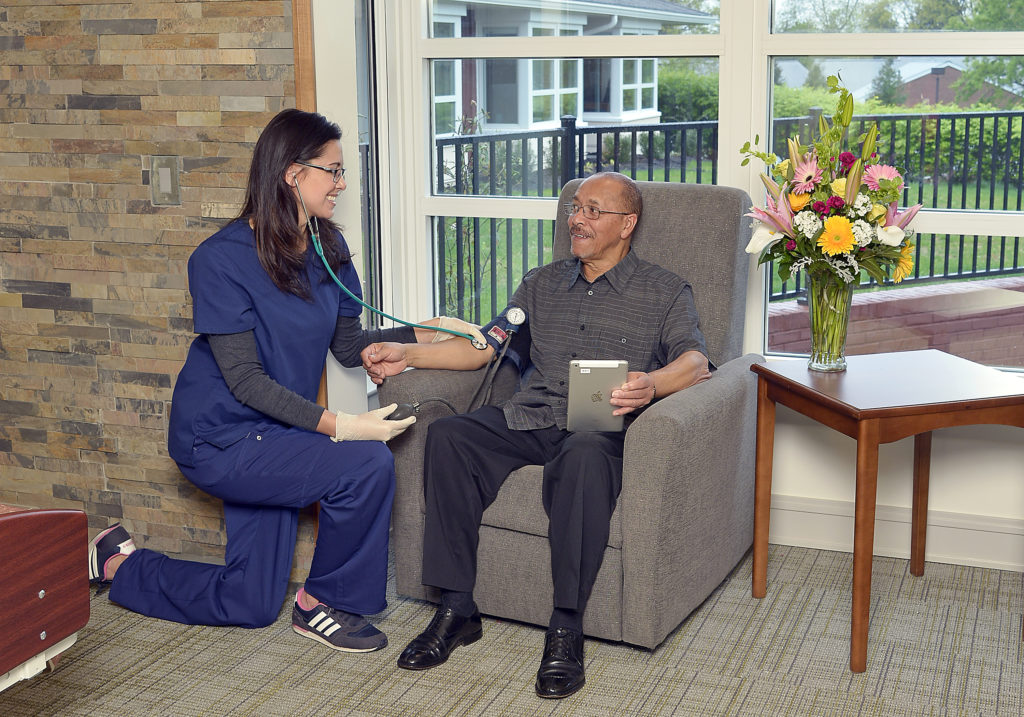 People of all ages today, including seniors, can rely on the proven benefits of rehabilitation therapy to help them regain physical mobility and ease back into a normal life at home.
Rehabilitation services support seniors in managing and recovering from pain while improving strength, endurance, and balance. In these ways, therapy services reduce seniors' risk for injury so they can more easily and independently participate in life's daily activities.
In 2016, we opened the Rehabilitation Center at Brethren Village, a freestanding facility with 20 in-patient fully furnished private suites. Our rehab center features a wide range of inpatient and outpatient short-term rehabilitation in two large, modern therapy rooms.
We offer highly-rated short-term rehab services for community members and our Residents
Our Medicare-licensed center provides short-term rehab services to community members of all ages, as well as our own Residents. For inpatients, the average length of stay is under 15 days. Our short-term rehab center has a low re-hospitalization rate and a 5-out-of-5 star Medicare rating in overall survey and quality measures.
Our licensed therapists evaluate and treat each patient, and offer these therapy services:
Physical therapy, occupational therapy, speech therapy, and respiratory therapy
Pulmonary rehabilitation
Cognitive, balance, and mobility exercises
Bariatric (weight-loss) services
For seniors, we most often provide assistance in recovering from injury, illness, stroke, or surgery so they can regain their independence. We work with seniors one-on-one to improve the ease of their daily activities—getting out of bed, bathing, walking, using stairs, and shopping.
We believe that therapy should be a pleasant experience, so our center is designed to be visually and aesthetically pleasing. It's designed to "bring the outside inside " with ample sunlight, views of the surrounding campus, and nature photography.
All our short-term rehab rooms feature state-of-the-art comforts and conveniences. These include private baths with walk-in showers, broadband Internet access, charging stations, smart TV with cable programming, adjustable closet space, and individually controlled room temperature. For meals, Residents can choose to eat in their rooms or take advantage of nearby bistro-style dining.
If you're considering a move to a retirement community in Lancaster, PA and want to remain as healthy and active as possible, we welcome you to visit Brethren Village. We hope you will read and learn more about our various retirement living options.
Here are a few answers to frequent questions we receive from retirees and their families who are interested in senior living at Brethren Village Retirement Community. We hope you will contact us to request more information or schedule a tour to learn all you can about our many services and features.