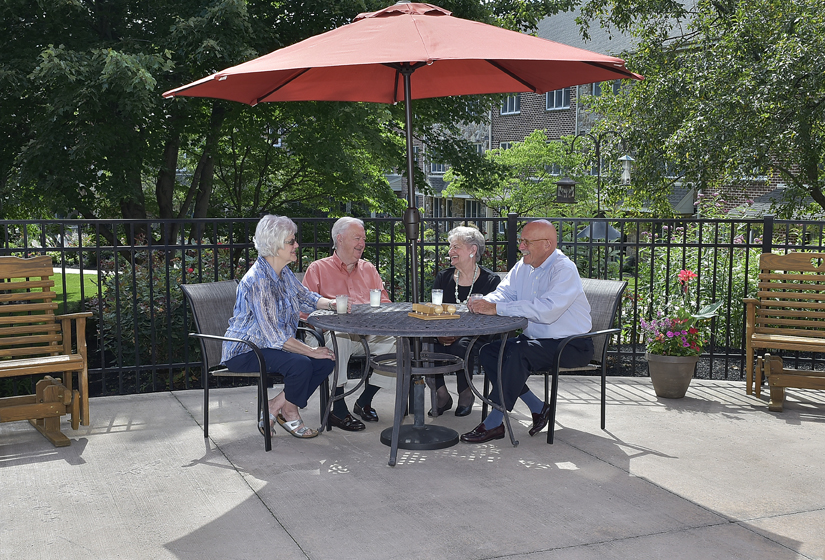 We all dream of the day when we can retire, sit back, and truly enjoy life. However, as seniors grow older, they are sometimes faced with unexpected challenges. This may include children moving away and health issues. One solution is taking part in activities that can provide a positive balance to retirement living.
Active senior living communities place a strong emphasis on the health and happiness of seniors. These retirement communities have staff who are dedicated to developing programs and activities that help keep seniors physically active, socially engaged, and connected to both their senior living neighbors and their local community. At Brethren Village, a continuing care retirement community, or CCRC, we help our Residents with many of life's basic and most essential elements to live a happy, healthy senior life.
Finding the key to happiness residing in an active senior living community
 Many studies have been published about happiness and its positive effect on physical and mental health. According to Aging.com, a study conducted by researchers from the University College in London found that people who consider themselves happy are typically more robust and physically fit. It also found that happy seniors have less trouble getting up in the morning and fewer issues with daily tasks such as getting dressed, eating and taking a shower.
 The Residential Living department at Brethren Village has a full slate of programs and events to keep senior Residents engaged. Trips and programs are designed to bring Residents together, keep them active and socialized while helping to diminish the potential for loneliness and depression.
How can seniors live a happier, healthier life? Try these three easy steps:
Exercise regularly
Regular exercise releases the body's natural endorphins, which helps reduce pain, boosts pleasure and results in a feeling of well-being and happiness. Brethren Village, located in Lititz, PA, has wellness activities, an indoor heated pool and free exercise programs for seniors. Group classes help improve balance, flexibility and cardiovascular health for seniors at all levels of physical ability.
Stay connected with friends and family
Socializing with friends is just as important at 82 as it is at 28. Humans are social creatures by nature but as we grow older, our circle tends to shrink. Senior living communities recognize this change and develop activities for seniors with a variety of interests. Social activities that bring people together are a great way to meet new people and make new friends. Residents especially love when family members visit and share a meal together.
Laugh a little every day
There's truth to the phrase "laughter is the best medicine." A study by Harvard University found that laughter is a natural pain killer. It can ward off disease, decrease depression, boost the immune system, decrease blood pressure and help decrease depression that plagues so many seniors. Surround yourself with upbeat people who make you laugh. Share stories and find humor in life. It just may be the answer to living a longer, happier retirement.
If you are looking for a senior independent living community that emphasizes the happiness of its Residents, learn more about our campus, our activities, dining options and fitness programs by clicking on one of our links for more information. Or call our Lititz, PA office, 800-367-9899 or 717-569-2657.