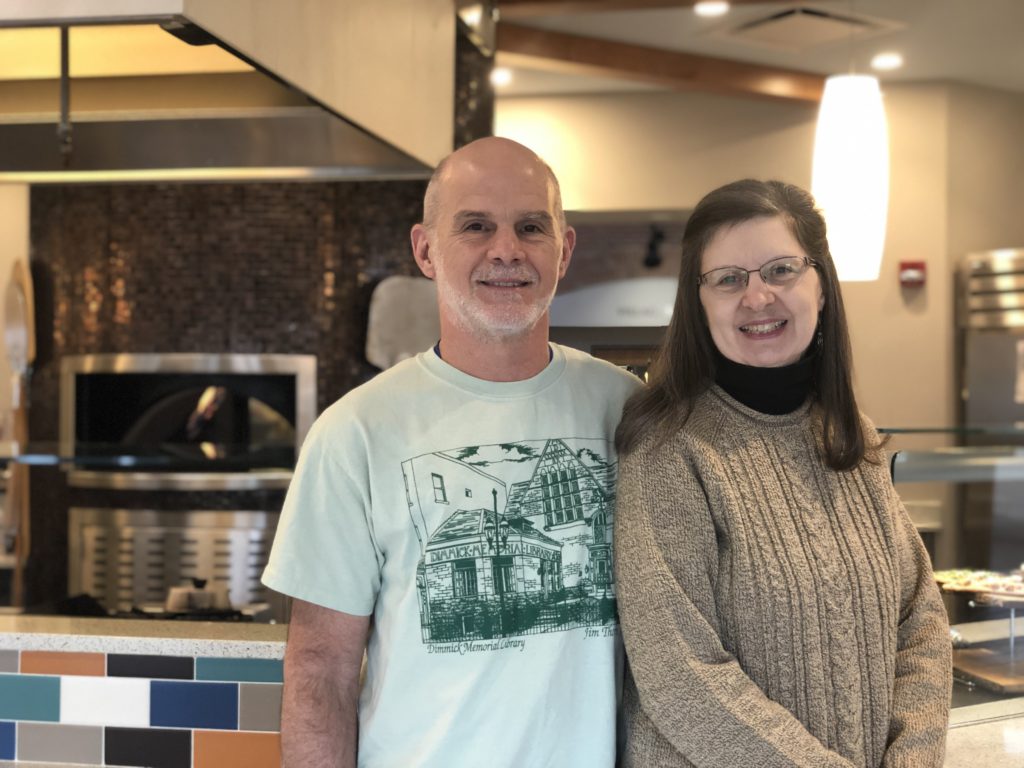 When Brian and Wendy Albright got married in Brethren Village's chapel in 1989, they didn't foresee moving here nearly 30 years later. But that's exactly what they did in November 2018. They relocated to Brethren Village's independent living Village Townhouses on Brian's 62nd birthday—the very first day they were eligible to reside here—making them among our youngest current Residents.
You might be wondering why this couple, when in their early 30s, decided to get married at Brethren Village Retirement Community. Essentially, it was a practical matter. "We were looking for a venue for a small wedding, and someone suggested the  chapel here," says Brian. Wendy adds, "We visited, liked it, and decided to get married here." It was that simple.
The two Lancaster County natives got acquainted while growing up as neighbors in Leola. They lost touch after high school, but one day about 15 years later, Brian noticed Wendy working at Park City. He stopped to chat with her—and six months later, they were married.
Three decades later, why would they move to a retirement community at such a relatively young age?
Wendy says, "We wanted to acclimate ourselves to Brethren Village while we're young enough to enjoy the community and all that's offered here." And if health issues ever arise, the care they need will be close at hand. The Albrights don't have children to help out as they get older and desired the security of living at a CCRC (continuing care retirement community).
Having no yard or maintenance work was also appealing, and being within walking distance of a restaurant and other services was a huge plus. Though they visited many retirement homes in the Lancaster area, they favored the sense of community they found here, as well as the social activities and programs.
Wendy also liked the "ambience of our building and the appearance of our apartment." Brian is quick to mention that living in the Village Townhouse is affordable and "everything is close to where we live—the Bistro, bank, store, and library." From an economic standpoint, they love the "great specials" at the Bistro and that Wi-Fi, TV, and taxes are all included in their monthly payment.
They put their name on the Brethren Village waiting list five years before moving here. Over several years, they visited most of the retirement communities participating in the cooperative "Explore Retirement Living Open House Tour" held annually in the fall. Eventually, the staff at Brethren Village knew them by name. Wendy recalls that "everyone at Brethren Village was so welcoming."
So, have other Residents noticed these youthful Residents? "Oh, yes," says Wendy, and all of their older neighbors and acquaintances have been exceedingly friendly and helpful to these youngsters, who are still employed part-time.
Brian works at Giant in the produce department, while Wendy is employed in her church's office. Previously, Brian worked for the postal service for 33 years, retiring after many years as a mail handler in 2011. Wendy has held several office positions, including for a district justice.
And in their spare time? Over the years, the couple has cared for fish, lizards, a bird, and a dog. Today, Brian plays guitar; does woodworking, mostly with exotic woods; and reads books about art, science fiction, and fantasy, as well as classics. Wendy enjoyed crocheting for many years, but now mostly does intricate beadwork to make lovely jewelry and decorative items. She reads Victorian novels and is a member of the Jane Austen Society of Lancaster.
Together, they enjoy visiting art museums; Longwood Gardens in Kennett Square; and the Winterthur Museum, Garden, and Library in Delaware.
The Albrights are now considering how they want to spend their leisure time at Brethren Village. Brian plans to use the pool and fitness center and would like to start gardening. He's also interested in shuffleboard, ping pong, billiards, and competing in the Senior Olympics. Wendy hopes to volunteer at the library, use the whirlpool, and eventually join the jewelry-making group. Together, they anticipate taking advantage of bus trips organized by Brethren Village.
It's clear that, three decades after their first memorable day at Brethren Village, Brian and Wendy will be making more special memories here, starting in 2019 but for many years to come as well.