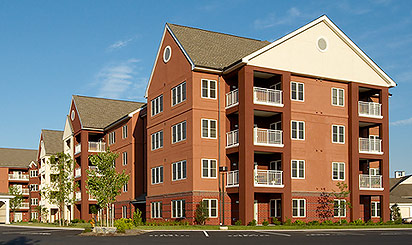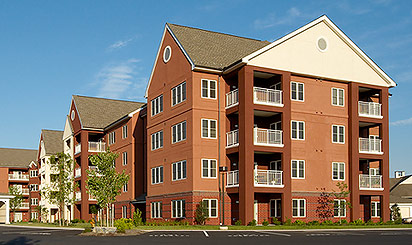 Studio Apartment Living
With approximately 34 Studio Apartments on campus, studio living is the perfect mix of convenience, flexibility and affordability for many of our Residents. Featuring a room, bath and kitchen, a Studio Apartment is a great option for care-free retirement living. View one of our Studio Floor Plans. View a video tour or a 360° tour.
One-Bedroom Apartment Living
Ranging from 548 to 900 sq. feet, our retirement community offers more than 175 One-Bedroom Apartments. Located in three different buildings on campus, many apartments include amenities such as an outside entrance or balcony, washers/dryers and reserved parking spaces for Residents. Our Fieldcrest residential living building also offers the option of covered parking. Two of our buildings, Village Townhouse and Oakwood House, have an added convenience of climate-controlled walkways connected to the Village Center, our indoor pool and chapel. View our most popular One-Bedroom Apartment Floor Plans called the Spruce and the Alder. View a video tour or a 360° tour.
One-Bedroom with Den Apartment Living
Within our Fieldcrest residential living building, Brethren Village Retirement Community offers 19 One-Bedroom with Den Apartments, ranging from 995 to 1,262 sq. ft. This floor plan includes a large living/dining area, master bedroom with an en-suite bath featuring a walk-in shower, den, powder room and an outside balcony or patio. View our One-Bedroom with Den Floor Plan called the White Oak. View a video tour or a 360° tour.
Two-Bedroom Apartment Living
Our Two-Bedroom Apartments include 116 residences between 950 and 1,135 sq. feet and 56 Two-Bedroom Deluxe Apartments between 1,136 and 1,700 sq. ft. Located throughout our campus, many Two-Bedroom floor plans offer large living spaces, two separate bedrooms, two full bathrooms, ample storage and a balcony or patio. View our most popular Two-Bedroom Apartment Floor Plans called the Redwood, Dogwood and Birch. View a video tour or a 360° tour.
Cottage Living
Designed to suit your personal expectations of residential living, our retirement community features 106 Cottages that offer wide and spacious living areas. Ranging from 776 to 2,213 sq. ft., Cottage living provides Residents with open floor plans featuring large kitchens and baths, two bedrooms, sunrooms and either a one- or two-car garage. Options available in Cottages include weekly house cleaning, laundry service and a meal plan. View our most popular Cottage Floor Plan. View a video tour or a 360° tour.
Northside Court Private Apartments
The nine buildings that make up Northside Court have a dedicated entrance from Airport Road, but still have easy access to all of the amenities on the rest of campus. And Northside Court's promenade is perfect for walking, relaxing or entertaining. All three Northside Court floor plans feature:
Private garage accessible from commons hallway
Storage in rear of garage
Two bedrooms
Two full baths
Master bedroom walk-in closet
Full-size kitchen with island
Combination living and dining area
Crestview apartments also include a private den
9-foot trey ceilings in living/dining room and both bedrooms
Full-size washer/dryer
Patio (1st flr) or balcony (2nd flr)
View the floor plans for the 1,428 sq. ft. Crestview, the 1,345 sq. ft. Hawthorne and the 1,240 sq. ft. Walden models.
Residential Pricing
0% Refund
Entrance Fee
60% Refund
Entrance Fee
Traditional
Monthly
Service Fee
Modified
Monthly
Service Fee
Lifecare
Monthly
Service Fee
Rental
Nonrefundable
Deposit & Monthly
Service Fee
Studio apartment
320 – 594 sq. ft.
$31,600 – $64,600
$85,900 – $103,400
$1,076 – $1,308
$1,466- $1,585
$2,722 – $2,841
$5,000 Deposit
$1,543 – $2,232
One-bedroom apartment
548 – 900 sq. ft.
$64,600 – $147,200
$103,400 – $235,500
$1,308 – $1,511
$1,585 – $1,788
$2,841 – $3,044
$2,232 – $2,770
One-bedroom with den apartment
995 – 1,256 sq. ft.
$166,600 – $185,700
$266,600 – $297,100
$1,607 – $1,866
$1,884 – $2,143
$3,140 – $3,399
N/A
Two-bedroom apartment
950 – 1,700 sq. ft
$123,900 – $270,100
$256,300 – $432,200
$1,607 – $2,224
$1,884 – $2,501
$3,140 – $3,757
N/A
Cottage
776 – 2,236 sq. ft.
$137,700 – $391,200
$220,300 – $625,900
$1,430 – $2,579
$1,707 – $2,856
$2,963- $4,112
N/A
Northside Court Private Apartments with 1-car garage
1,240 – 1,428 sq. ft.
$229,600 – $253,500
$367,400 – $405,600
$1,866 – $1,986
$2,143 – $2,263
$3,399 – $3,519
N/A
2nd Person
Monthly Service Fee
N/A
N/A
$348
$6254
$1,325
$348
Lifecare Equalized Rate Upon Permanent Move to Supportive Living
N/A
N/A
N/A
N/A
$166 per day,
per person
N/A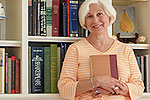 For more information on Residential Living, or to schedule a tour of our Lancaster County retirement community, please Contact Us by calling our Marketing Department at 717-581-4227.