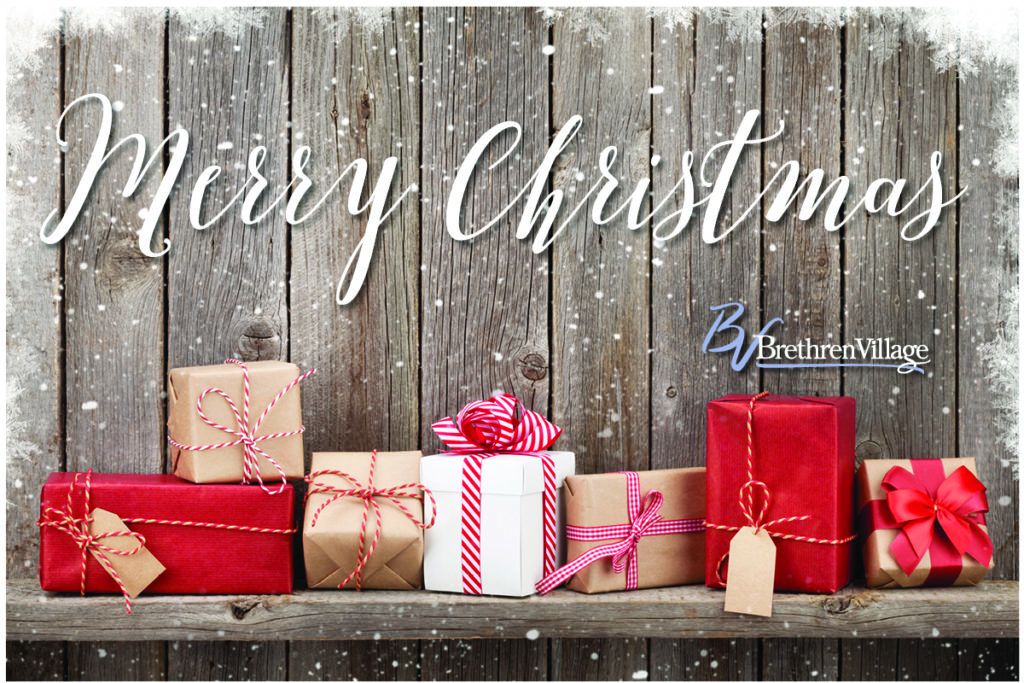 As we observe Christmas at Brethren Village, we identify with the sentiment of Winston Churchill, who said, "Christmas is a season not only of rejoicing, but of reflection."
Like Christmases over several centuries and in many countries, our senior living celebrations blend merriment and meditation, marking both the secular and sacred significance of the holiday season.
Drive by Brethren Village at night, and you'll see our community illuminated with sparkling lights. As you make your way around the Village itself, you'll see doors adorned with wreaths and cheerfully decorated lawns and trees.
But inside is where you will find the true spirit of Christmas. Throughout December, Residents of Brethren Village enjoy Advent teas, Christmas parties, concerts by the Brethren Village Choir, a Christmas sing-along, and our spirit-lifting Christmas Eve Service.
A fun-filled highlight of our holiday season is the Brethren Village Auxiliary's annual Christmas Craft Bazaar and Cookie Sale, with proceeds supporting projects and resources to benefit Residents.
More eagerly anticipated Christmas activities at our senior living community
Residential Christmas Party with rollicking talent show by Brethren Village Team Members
On-campus Mistletoe Tour of Residents' lovely holiday-themed homes
Lively New Year's Eve Party sponsored by the Rock'n Seniors Dance Club
Dinner at Hershey Farm and Restaurant and "The First Noel" show at American Music Theatre
Plus, this year's popular bus trips offer a combination of camaraderie and entertainment:
Beautiful Christmas displays at Winterthur and Longwood Gardens
World-renowned Vienna Boys Choir at Shippensburg University
Displays of Christmas lights at Herr Foods and Hershey Sweet Lights
At Brethren Village, we like sharing holiday feelings of anticipation and cheer with family members and friends. We welcome visitors at all times, but especially at the holidays. The presence of children, in particular, brings warm smiles and adds to our multigenerational family environment. To facilitate family visits, we have a number of common areas where families can gather to meet to celebrate the holidays. And, we invite families to enjoy the cuisine at any of our pleasant on-campus dining venues. In other words, at Brethren Village, the more the merrier!
If you or a loved one is considering senior living in Lancaster, PA a we hope you will schedule a visit to experience our lovely, spacious campus near Lititz and learn about our many services and amenities. There's a good chance that our senior living residential community is just what you have in mind.