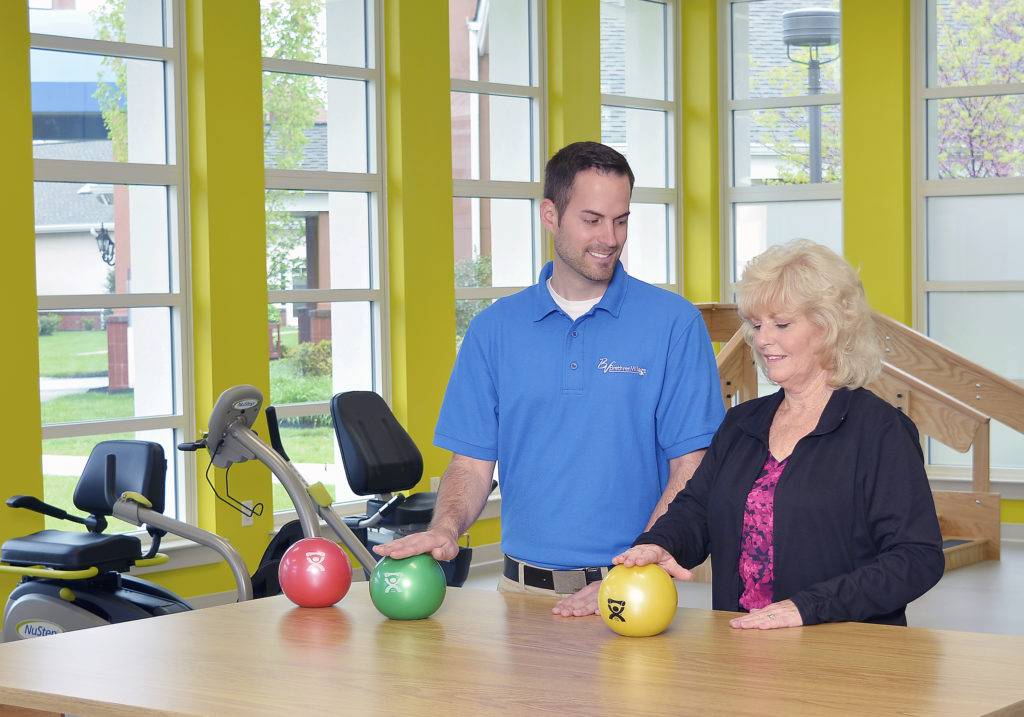 When Rose, at age 78, suffered a debilitating stroke, she found her path back to near-normalcy through therapy—but not physical therapy alone. Her condition required a combination of physical, speech, and occupational therapy, each restoring her in different ways. Today, while subtle signs of the stroke remain, she is fairly independent, requiring just mild assistance with some daily activities.
At Brethren Village, we support people like Rose in their short-term rehabilitation every day. We believe therapy should be pleasant as well as productive for seniors recovering from stroke, injury, illness, or surgery. So whether receiving support from physical, speech, occupational, or respiratory therapy—or a combination—they do so in a setting brimming with sunlight and views of our lovely outdoor surroundings.
Physicians generally refer seniors for short-term rehabilitation upon their discharge from the hospital or when challenged by chronic pain, imbalance, or mobility issues.
Rehabilitation therapists at Brethren Village evaluate seniors' abilities and develop personalized care plans to meet their individual needs. Short-term rehabilitation at Brethren Village falls into four therapeutic categories:
Physical therapy, commonly known as PT, strengthens normal physical function through simple but strategically focused exercises. Doctors prescribe PT to treat pain and muscular discomfort and improve range of motion, balance, and endurance. Physical therapists and their assistants provide guidance and hands-on support during the exercises.
Speech therapy restores language skills lost following a stroke and improves disorders affecting the voice or swallowing. Speech-language pathologists work with seniors one-on-one using specialized speech and language exercises.
Occupational therapy, or OT, teaches seniors how to improve and recover skills needed to perform everyday activities. Often used in combination with PT, OT assists in rehabilitation after stroke, improves balance, and increases range of motion. Occupational therapists and their aides also acquaint seniors with assistive devices to enable them to accomplish routine tasks.
Respiratory therapy helps seniors manage asthma, COPD (chronic obstructive pulmonary disease), and other lung conditions. Respiratory therapists also aid seniors with home oxygen support provided by home ventilators and other devices, like those used for sleep apnea.
Rehab patients at Brethren Village—our own Residents, as well as people from the wider Lancaster County community–benefit from the expertise of our Transition of Care Services Team. These professionals include a medical director; nurses; physical, speech, occupational, and respiratory therapists; a therapeutic recreation specialist; and social workers.
Working together with patients in both inpatient and outpatient therapy, they support seniors on their journey to recovery, easing their challenges with daily activities—getting out of bed, bathing, walking, and navigating stairs. 
Short-term rehab at the Rehabilitation Center at Brethren Village
The Rehabilitation Center at Brethren Village has 20 fully furnished, private rooms for comprehensive, inpatient short-term rehabilitation. Patients stay here for, on average, about 15 days.
All inpatient rooms at Brethren Village's rehab center have private baths and walk-in showers. They also offer broadband Internet access, charging stations, smart TV with cable programming, adjustable closet space, and individually controlled room temperature. Residents have the choice of in-room or cafe dining.
If you're looking for a short-term rehabilitation facility or considering a move to a senior living community, we invite you to contact us at Brethren Village Retirement Community. We can give you additional information or schedule a tour so you can learn more about the many services and features at our CCRC (continuing care retirement community) in Lancaster, PA.