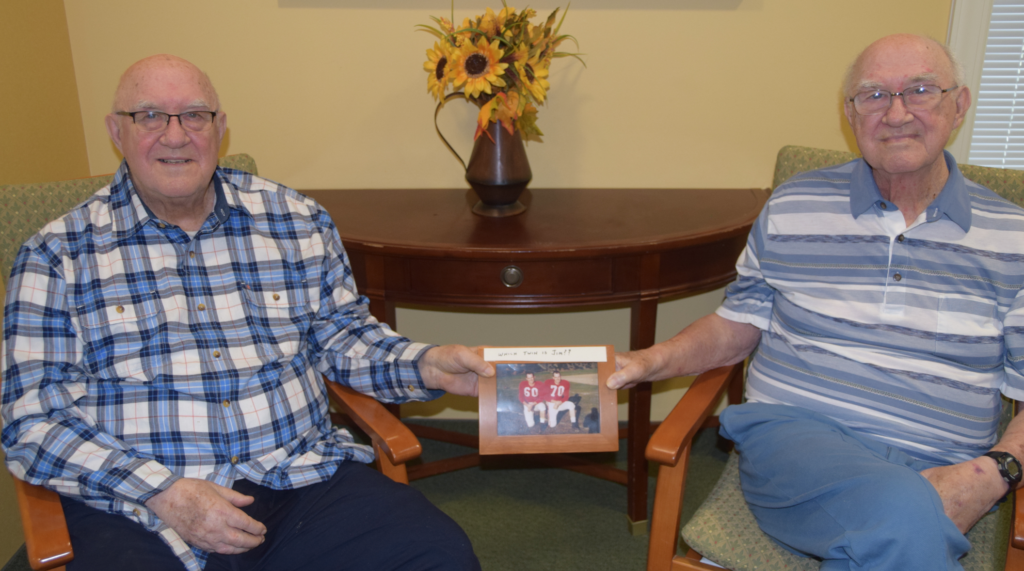 From the mid '60s to mid '70s, two competing Lancaster County high school football coaches were known to hunt with each other on Saturday morning and compete against each other later that day.
It was more than good sportsmanship that allowed their camaraderie to thrive. The two coaches—for the Conestoga Valley Buckskins and Manheim Central Barons—weren't just buddies with common interests. They were the Forsha brothers; in fact, the Forsha twins. Today, at age 88, their good-natured rivalry is as evident in their banter as it was 50 years ago.
Jack and Jim Forsha now live at Brethren Village Retirement Community with their wives, Billie and Jean. Remarkably, their individual paths through life have been strikingly similar, with one rarely making a major decision without the other one. It's who they are, it's what they know, and neither of them would have it any other way.
Born John and James in Blairsville, Indiana County, they moved to Johnstown while in junior high. From a young age, Jack and Jim played and excelled in football, basketball, and baseball. Upon graduation, they got jobs with the same plumbing firm but later decided to enlist in the Marines.
However, upon learning they might not remain together, they instead chose the Air Force, which assured them they could. The Air Force kept its promise. The twins shared boot camp in San Antonio, the football field at Bolling Air Force Base in Washington, DC, and even a tent in Korea.
Both guys married young women from Johnstown, who are more like sisters today than sisters-in-law. Jim and Jean met at a dance while in high school, dated, and then married while Jim was in the service. Jack and Billie had been close in junior high—playing tennis, riding bikes, meeting at the movies—and reunited when Jack returned from Korea. They married after a whirlwind courtship of three months.
The guys took advantage of the G.I. bill and decided to attend Indiana State Teachers College (now Indiana University of PA) to become teachers. Jim says they both liked their teachers while in school and enjoyed instructing kids at summer playground activities. So, teaching seemed the right fit for each of them, and they hoped they would be able to coach as well. Of course, they commuted to school together, and both played on the football team—Jack, a tackle, and Jim, a guard.
After teaching for six years, both in the history department at Bedford High School, the brothers learned of comparable jobs in Lancaster County from a friend teaching there. The better wages and benefits motivated them to apply, as Jack and Jim were raising families by then. They interviewed for the same two jobs, and both schools said they would be glad to take either one.
The two families moved to Lancaster County—together, of course—with all their furniture and household goods in a single truck. Jack, Billie, and family settled near Bird-in-Hand in the Conestoga Valley School District, where he taught history for 26 years and coached football, basketball, and baseball. Jim, Jean, and family located to Manheim in the Manheim Central School District, and he taught history there for 30 years, coaching football and baseball.
As adults, the brothers routinely played basketball and baseball with other teachers, often on the same team. As teachers and coaches, they travelled in the same social circle and regularly confused their peers and students. For example, students hanging out at Park City were puzzled at seeing their team's coach but knowing the team was playing an away game at that very moment.
The brothers enjoyed golfing in retirement, and their wives frequently joined them on the golf course. Billie recalls that they rarely went on vacation without loading their clubs into the car.
Beyond sports, both have always liked to sing, and Jack, more outgoing than Jim, sang on a church choir for 30 years. Now, with sports and teaching behind them, they are most proud of their families. Jack and Billie have two sons, three grandchildren, and two step-grandchildren. Jim and Jean have a son and three daughters—including twins—and five grandchildren.
Along with their wives, the brothers chose the senior living services at Brethren Village and moved here in 2013, Jack and Billie in the spring and Jim and Jean in the fall. Both Jack and Jim now reside in The Courtyards, with Jim two floors directly above Jack. Their shared identity can be seen even in similar health challenges that they have faced.
Considering their shared experiences over 88 years, the two obviously have basked in the pleasure of being twins. Jims sees only "an advantage" and "no downside" to his lifelong experience, to which Jack adds, "No matter where we go, we know at least one other person."