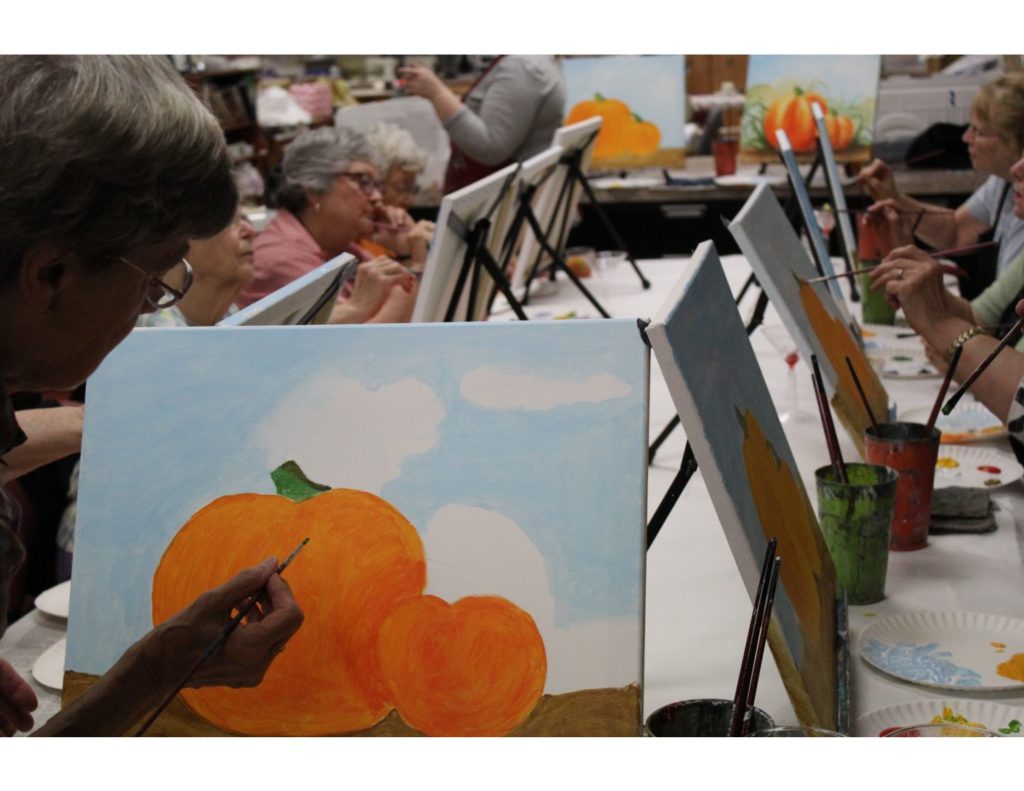 Have you ever been to an arts and crafts show or a county fair, seen the handiwork of skilled artisans, and thought, "I wish I could do that"? Well, if you're in or near retirement, now is the time when you can stop wishing and start doing.
Creative expression in senior living has benefits for overall well-being
The American Art Therapy Association lists several mental and physical benefits of art, music, and other creative pursuits for older adults: improving memory, motor skills, and self-esteem; encouraging relaxation; and maintaining brain health, which can lessen the risk of dementia.
Research shows that creative arts can assist people with cognitive impairment:
Someone with dementia and struggling with routine communications may find contentment in expressing themselves creatively.
Playing or just listening to music has proven benefits including enhanced memory and alertness.
Seniors with Parkinson's disease or other chronic degenerative conditions often find creative expression to be therapeutic and satisfying.
Creative pursuits done as a group, such as an art class or quilting group, has additional advantages. The social interaction fosters new relationships at a time when some seniors risk feeling isolated. That's most likely why creative activities have been found to reduce depression.
In short, creative expression can bring greater happiness, more meaning, and better health to the lives of seniors.
Creative outlets at Brethren Village Retirement Community
Would you like to like to try your hand at a new creative hobby or two? Retirees who live at senior living residential communities have an advantage in finding a range of creative opportunities available at their fingertips.
At Brethren Village, Residents can choose from a variety of creative hobbies and activities, allowing them to learn, grow, and socialize with those who share their interests. These might be activities they have pursued over many years or ones they discovered since their move to Brethren Village.
Our creative activities include painting, jewelry making, ceramics, quilting, sewing, knitting, crocheting, flower arranging, growing plants, woodworking, chair caning, model railroading, singing, and playing piano and other instruments.
For our seniors who aren't able to walk or drive to these on-campus activities, our complimentary shuttle service is available to transport them. This wide variety of senior living activities is available to all Residents who can participate, and even those who may find participation to be difficult.
We involve seniors with dementia in creative activities, too
We include seniors with dementia in creative activities to the extent that they are able. Our goal is for them to live with dignity and as fully as possible. Our dementia care staff gets to know each Resident personally, with knowledge of their backgrounds, their likes, and dislikes, and tailors interactive activities to meet their needs.
Our memory support program, staffed by trained health care professionals, offers a safe, secure physical environment and a kind, compassionate emotional environment.
If you or a loved one is considering senior living at a Lancaster, PA retirement community, we hope you will visit our lovely but bustling campus near Lititz. We think you will quickly see why so many retirees enjoy life at Brethren Village and call it home. Please contact us to schedule a tour or for more information on our range of retirement living options.