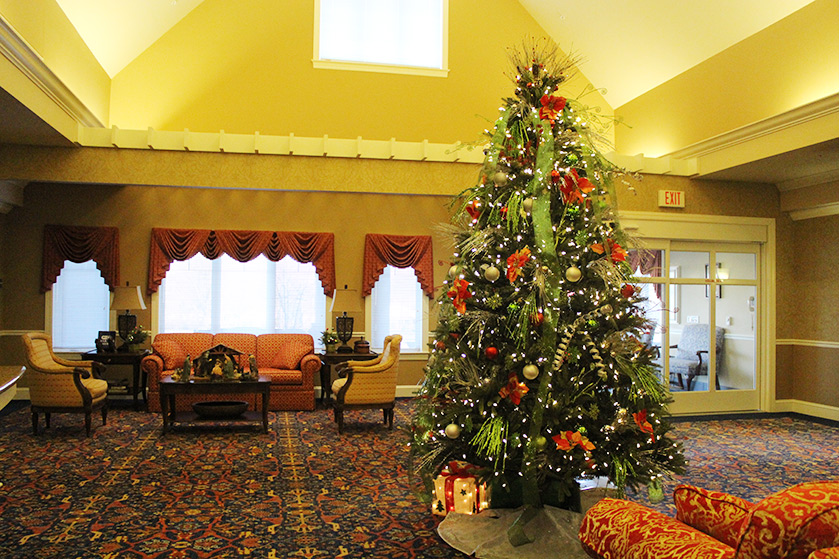 "There's no place like home for the holidays," and at Brethren Village, which is home for 1,100-plus seniors, we make every effort to transform our retirement community into a lovely and warm Christmas wonderland.
Outside, our holiday spirit is aglow with wreaths, lights and beautiful trees and greenery, while inside, hallways, common areas and cafes are decorated to welcome Residents and guests and celebrate the joys of the season.
An active December at Brethren Village Retirement Community
We know that Residents of our senior living community anticipate enjoying the holidays with their families and friends. That's why we plan a number of Christmas-themed events during December to entertain, uplift and unite them in worship. As you walk through the hallways or around the campus, you can sense the excitement as we draw nearer to December 25.
Popular Christmas activities at Brethren Village include our annual Christmas Bazaar and Cookie Sale, Advent teas, Christmas parties, performances by guest choirs and bands, concerts by Brethren Village chorale groups, a carol sing-along and Christmas worship services.
In addition, for those who want to travel off campus for holiday entertainment, we provide transportation to several area concerts and to Hershey Sweet Lights, a drive-through experience featuring nearly 600 illuminated, animated displays.
We also assist Residents' families and friends with Christmas gift giving. If parents, grandparents or other loved ones live at Brethren Village, and they don't know what to give them for Christmas, we can help them out. Our staff has compiled a selection of gift cards for Residents, which are then delivered to them by members of our Concierge Services Team. Gift cards are available for our beauty salon, housekeeping services, floor care, on-campus shopping and dining, and off-campus bus trips.
If you are searching for a retirement home, keep in mind the importance of selecting one that looks and feels like home throughout the year, both indoors and outside. We think you will get that feeling if you visit Brethren Village and observe the attention paid to even the smallest details of senior living. We invite you to contact us and arrange a tour to explore our retirement living options and see why so many seniors are happy to call our community home.
From all of us here at Brethren Village to you, your family and friends, we wish you a wonderful Christmas season, filled with moments of joy and celebration, and a new year filled with hope and promise.