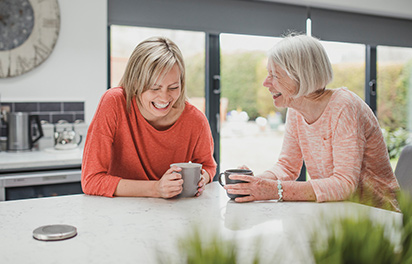 Caring together: Taking care of yourself while caring for your loved one.
Featuring Amy Goyer, author, caregiver and expert on family, caregiving, and multigenerational issues for AARP.
Caregiving is a richly rewarding experience, but the role of the caregiver also comes with enormous pressures and responsibilities. In her book, Juggling Life, Work, and Caregiving, Amy Goyer provides insights and inspiration through her own poignant story as a live-in caregiver for her parents.
As a writer, speaker and consultant specializing in caregiving, Amy Goyer is a recognized media authority who has appeared on "The Doctors," "Dr. Phil," the "Today Show," "Good Morning America," and "CBS This Morning." She has worked in the field of aging for more than 35 years at the local, state, national, and international levels, including adult daycare, nursing homes, the Ohio Department of Aging and AARP.
A passionate champion for family caregivers, Amy has been one her entire adult life, caring for her grandparents, parents, and sister. She currently cares for her 94-year-old father who has Alzheimer's Disease.
There will be a drawing to receive one of 20 copies of Amy's book Juggling Life, Work, and Caregiving.*
*Must be present to win.
Enter Brethren Village from Rt. 501/Lititz Pike at the Fieldcrest Drive traffic light and follow event signs.
Space is limited. Please RSVP by filling out the form below.