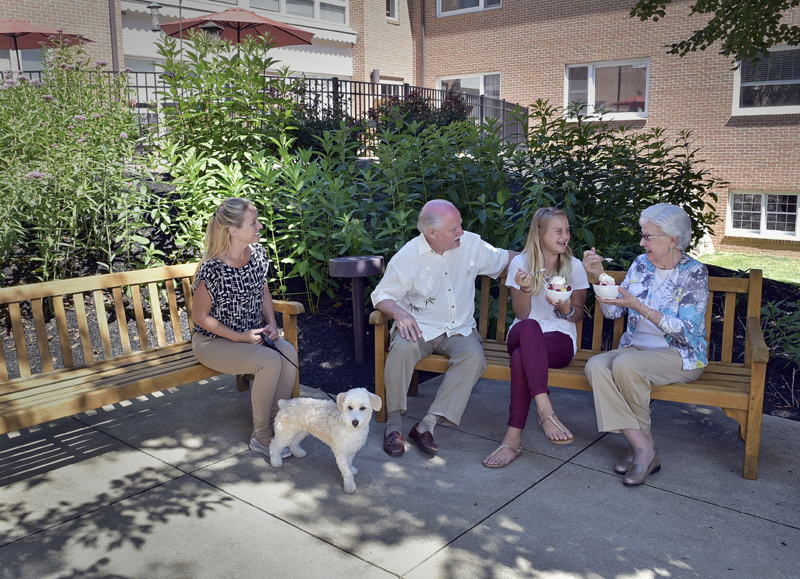 Each generation of seniors is faced with an abundance of choices when it comes to retirement planning. All of those choices have one common factor: future care needs. It can be difficult to know what healthcare a person may require at some point down the road. Luckily, for seniors in the Lancaster, PA area, there are great options available when looking to plan for their next stage of retirement in the form of Continuing Care Retirement Communities, or CCRCs. Brethren Village is proud to be one of Lancaster's most sought after CCRC retirement communities. If you haven't considered a CCRC, here's some information on what a CCRC is and its many benefits.
Continuing Care Retirement Communities
The best Continuing Care Retirement Communities provide various levels of care and support for seniors at all stages. They are a great option for seniors who may need assistance in their later years and want to be sure care will be available to them right where they live.
What a CCRC like Brethren Village offers seniors is a comprehensive approach to future health needs. Residents enter a long-term agreement with their CCRC of choice, connecting them to a community full of amenities, housing, and care options all in one accessible location.
CCRCs operate as a campus, much like a college, providing a quaint yet bustling community atmosphere suitable for senior living. At a CCRC, you're able to stay attached to the modern world while having a care team in place who are focused on your best interests.
Our services are designed to give you peace of mind, so you can live without the concern of inconveniencing family members as you need more care in the future.
Life can change as you get older, but our dedication won't
The majority of Residents at Brethren Village enter our community healthy and looking for flexibility in their lifestyle. We offer independent living apartments and cottages where Residents can enjoy the campus freely.
Over time, personal care services can be added to your care plan for those Residents needing an extra hand in the way of daily activities. These needs can be as minimal as medication management or as involved as bathing and dressing assistance.
When needs progress, skilled care services can become a part of your care. This is more akin to the high level of care you would see in a nursing home. A dedicated nursing staff will assist you with constant care or as is advised by our health staff.
If a Resident's needs should change, their families can work with our staff to transition into the appropriate personal care, memory care, or skilled care options available. In addition, our campus features a short-term Rehabilitation Center where members of our CCRC can receive speech, occupational, and physical therapy if needed. For those struggling with dementia, memory support neighborhoods are available as well, managed by a team of specialists.
A place to call home
Brethren Village offers a wide range of options to serve you or your loved one throughout continuing care needs. With a 165-acre campus, dining plans, access to entertainment, salons, wellness programs and other modern amenities, we are certain that with the proper care program, you'll feel right at home. In addition, Residents are provided with 24-hour security and emergency call systems across campus.
To schedule a visit to our campus located in Lititz, just minutes from Lancaster, or to receive more information on CCRCs, please contact us. We are dedicated to teaching our community members about the lifestyle available here and are happy to answer any questions.