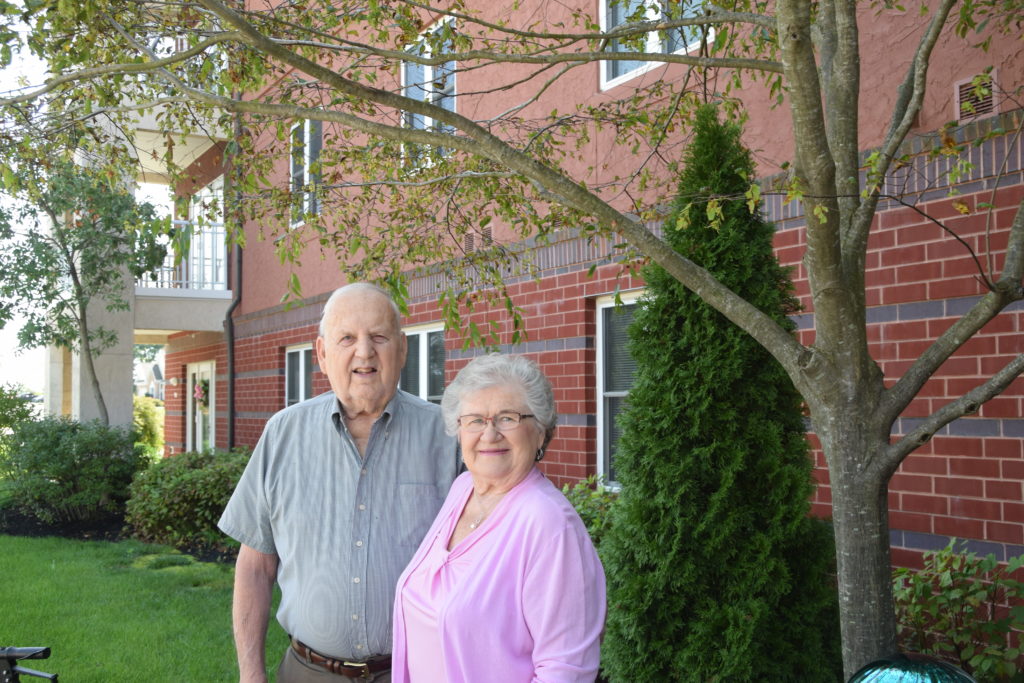 For Joan and Harry Hershey, Brethren Village Retirement Community has been a way of life in their family for many generations.
Joan (pronounced Joanne) and Harry recently moved into Brethren Village in June, after Joan served on our Board of Directors. But Joan's family has been an important part of both leadership and residency at Brethren Village for over a century. The family's lineage here includes great-grandparents, grandparents, and parents who all chose Brethren Village as their place to retire. In fact, members of her family joined the staff more than a century ago, a month before it officially opened its doors.
A short history of Brethren Village Retirement Community
Brethren Village's history starts in 1897, when the first location was created on Old Line Road near Manheim, PA. That building was formally known as The German Baptist Brethren Home, but more colloquially known as the Home for the Homeless. The community was born from the Brethren people's desire to love, provide for, and take care of their own.
One of their initial orders of business was to appoint its very first steward and stewardess to watch after the home's Residents. The couple—known as Brother and Sister Jonathan Weaver—was Joan's great-grandparents. They had three daughters, one of whom was Susan Overly, Joan's grandmother. The children tended to the Residents and grounds with their parents. The initial location had 60 acres of land, but most of it was unusable for food production and the house was in need of substantial repairs. Mrs. Overly recalled the hours of work as long and laborious, but worth it in the end.
A little over a decade into their time at the home, leadership decided to relocate in light of the numerous deficiencies of the building. In 1909, a local family offered ten acres of land near what is now known as Lititz Pike, free of charge. Joan's grandfather helped construct the first building—Founders Hall—in 1910, which stood there until its removal in the late 1990s as part of a major campus renovation.
Susan Overly said in an interview some years ago with Mary Ann Johnstone, writer of A Pattern of Love, Brethren Village 1897-1997, that the summer spent building the new retirement community in Lititz ultimately proved to be very fruitful for the Residents. "It was such a wonder to the people to have a home like this," Mrs. Overly shared in the article, her voice "tinged with emotion."
"It just feels very much like home"
Today, Joan is 80 years old, and her husband Harry is 86. They have dedicated a large portion of their lives to Joan's parents' and grandparents' cause by staying involved with Brethren Village's leadership before retiring. Joan can't speak highly enough about her time and experience as a Resident herself. She notes her appreciation for the sense of community that comes with living on campus. She and her neighbors feel involved and engaged through all the various retirement community activities they're able to experience at BV.
Residential life at BV continues to offer wide-ranging programming for Residents, including a vast array of wellness and fitness programs including yoga, personal training, and aquatics as well as group classes and sporting activities. The creative arts room is the perfect place for activities like quilting, ceramics, and jewelry making. In addition, we have the Green Thumb Society, a Resident-run greenhouse on campus; Model Train club; Village library; Resident Wood Working Shop; musical performances; day trips as well as multi-day excursions and so much more. These services are offered as a commitment to every Resident's spiritual, emotional, and physical health and well-being.
Overall, Joan is thankful she and her husband have been able to continue their family's centuries-long legacy with an active senior living community of like-minded individuals who share the same core values as their own.
"I believe in the visions that have always been at BV, to provide a safe place for the elderly," Joan said. "The feeling of security, common values… it just feels very much like home."
We invite you to learn more about our retirement living options. Please contact us for more information or to schedule a visit.