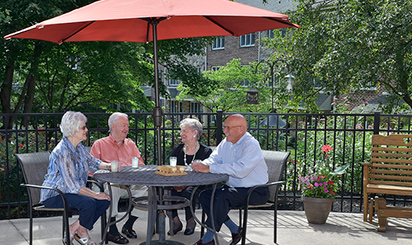 Prospective Residents and community members are invited to truly explore all that Brethren Village has to offer by attending our FREE Fall Open House Tour on Saturday, October 21, 2017, from 10:00 AM to 4:00 PM. Registration begins at the Fieldcrest Building Entrance C, located by entering our campus at Fieldcrest Drive and Rt. 501/Lititz Pike.
You'll be able to explore our Residential, Personal Care and Short-Term Rehab options at your leisure, tour amenities, plus enjoy refreshments from BV's Dining Services. No reservations are needed.
Residential living cottage, apartments and Northside Court private apartments
Personal Care apartments, services and amenities tours
Tour the Rehabilitation Center at Brethren Village
Workshop and other buildings open
Shuttle service available (Enter campus from Lititz Pike at Fieldcrest Drive and follow Open House signs)
Joining forces with 17 other retirement communities in Lancaster County, our BV Open House Tour will allow visitors to find more to explore in our community as part of the "Explore Retirement Living Open House Tour" event. For a full list of participating communities, please visit www.exploreretirementliving.org.
We look forward to welcoming you!