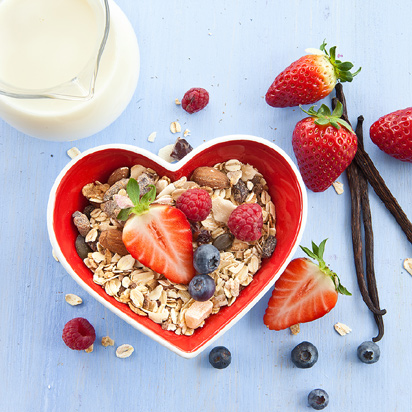 Apples are high in soluble fiber, which can potentially help lower cholesterol. They help you maintain a steady blood sugar, and provide potassium, antioxidants and vitamin C.
Asparagus contains vitamin A for healthy eyes and immune system. It is high in lycopene, which has been proven to help prevent colon cancer. Asparagus also contains fiber, protein and iron.
Blueberries have many of the same benefits as apples, but they pack a major antioxidant punch. They also have high levels of vitamin C and K.
Broccoli may be the bane of many a child's dinner plate, but this leafy green vegetable has fiber, antioxidants and vitamins that benefit your eyes, red blood cells, immune system, tissue and bones.
Butternut squash has beta-carotene for eye health, but it also has vitamin C and loads of fiber.
Dark chocolate isn't off limits. In fact, some studies have shown that eating small amounts of dark chocolate regularly can reduce a woman's chance of stroke up to 20 percent.
Fava beans are low-fat and cholesterol free, and they have plenty of B vitamins, fiber, iron and potassium.
Greek yogurt has less salt and sugar, fewer carbs and more probiotics and protein than American-style yogurts. If you are a yogurt lover, consider switching to low-fat or nonfat Greek yogurt.
Leafy green kale offers up omega-3 fatty acids, calcium, fiber and vitamin K.
Oatmeal is high in protein, iron and other minerals, and it is low-fat. But try sweetening it with fresh fruit or a little bit of honey instead of sugar to keep the calorie count low.
When using oil, olive oil is always a healthy choice. It contains monounsaturated fat, which has been shown to lower cholesterol.
You may not be able to pronounce it, but quinoa (keen-wah) is a great substitute for less nutrient-dense rice or pasta. Quinoa is a complete protein that contains copper, magnesium, B2, phosphorus and iron. It is also high in fiber and gluten-free.
When choosing fish, wild-caught salmon should be first on your list. Its omega-3 fatty acids can help reduce heart attacks and lower blood pressure.