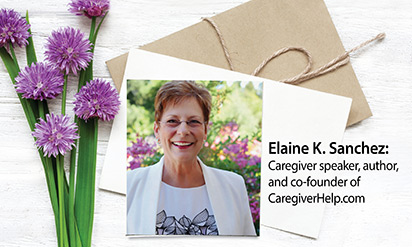 Finding Hope, Humor, & Heart in Caregiving
Featuring Elaine K. Sanchez: Caregiver speaker, author, and co-founder of CaregiverHelp.com.
Caregiving is a richly rewarding experience, but often comes with enormous pressures and responsibilities. Sometimes, it even comes with unavoidable laugh-out-loud oddity. In her book, Letters from Madelyn: Chronicles of a Caregiver, Elaine K. Sanchez recounts the tale of her mother, Madelyn Kubin, a 70-year-old Kansas farm wife and caregiver to Elaine's father Quentin. Through her letters, Madelyn demonstrates how it is possible to experience mental and spiritual growth even in the very worst end-of-life situations. And above all, how to keep hope and humor alive through the pain.
A masterful storyteller, Elaine incorporates hope, humor, and heart into her keynotes, breakout sessions, and training events for family and professional caregivers. She frequently delivers keynotes, workshops, and caregiver training sessions. She writes blogs and articles for numerous magazines and online publications, including the Caregiver Blog on her website as well as the Huffington Post.
There will be a drawing to receive one of three copies of Elaine's book, "Letters from Madelyn: Chronicles of a Caregiver," at the event.
Enter Brethren Village from Rt. 501/Lititz Pike at the Fieldcrest Drive traffic light and follow event signs.
Space is limited. Please RSVP by filling out the form below.