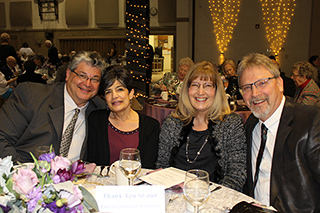 This year's Good Samaritan Banquet on April 19 at Middle Creek Church of the Brethren was a tremendous success! We have exceeded last year's net proceeds and donations are still coming in. So far over $71,000 has been raised for the Good Samaritan Fund. BV's Good Samaritan Fund helps to offset the cost of benevolent care for Residents, who, through no fault of their own, are no longer able to pay for their care and services at BV.
For 121 years Brethren Village has heeded Jesus's admonition at the end of the Samaritan story to "go and do likewise" by showing mercy to those who rely on our services. Those that joined us at the banquet and made contributions have done so because they too have heeded the moral of the story to show mercy and care by supporting Brethren Village's ministry which is lived out through our collective giving to the Good Samaritan Fund.
Inspiring story about our generous volunteer, Marie Prichard, who shares her time to enrich the lives of Residents in the Courtyards.
The program included inspiring stories that we were eager to share with you because they highlight how generous people involved in the ministry of Brethren Village give of their time and service. Marie Prichard's story was shared with guests that night via video. We also shared stories that we heard from Residents about how Team Members embody caring through the way that they go about their jobs every day. The video interview with Marie is available below and you will hear her say about our Team Members that it is not just a job – it's a ministry, and for family members of Residents that means the world to them.
We couldn't have done it without our generous donors!
The Development Department continues to receive donations in the mail from donors who want to make a difference. If you'd like to be a part of our ministry and contribute to the Good Samaritan Fund, it's not too late! You can do so online or mail your gift to: Brethren Village, Development Department, 3001 Lititz Pike, Lititz, PA 17543. If you have any questions, please call (717) 581-4316.
Stay tuned for more details about Brethren Village's banquet in 2019!