This year's Good Samaritan Banquet on April 11 at Middle Creek Church of the Brethren was a tremendous success! We have officially reached over $1 million raised for the Good Samaritan Fund since the first banquet! This year alone, nearly $66,000 has been raised for the Good Samaritan Fund. BV's Good Samaritan Fund helps to offset the cost of benevolent care for Residents, who, through no fault of their own, are no longer able to pay for their care and services at BV.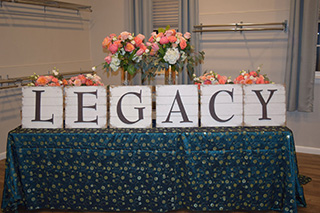 We opened the evening with a special announcement and recognition of Henry H. Gibbel, whose exemplary service to Brethren Village began 50 years ago. Guests heard about the many ways Henry has been integral to Brethren Village's ministry through its operations and philanthropy during this time. Barry Shaw, Director Emeritus shared his reflections on serving alongside Henry on the Board of Directors. Following Barry's comments John Gibbel, current Board Member and nephew of Henry, presented Henry with the recognition of the new Henry H Gibbel Society. We honor Henry's longstanding service by recognizing donors (individuals as well as organizations) who have achieved either the milestone of $25,000 through their cumulative giving, or the milestone of giving for 15 or more years.
Learn how it feels to be home at Brethren Village.
The program included inspiring stories that we were eager to share with you because they highlight how generous people involved in the ministry of Brethren Village give of their time and service. This year we shared the story of what every Resident experiences – without regards to whether or not they are receiving benevolent funds. Susan Klein, daughter of current BV Residents, shared her personal story with guests that night via video. The video also includes Team Members in Personal Care reflecting on what creating a home for Residents means to them. You will see their profound insights interwoven with Susan Klein's story. Their voices, together with Susan's story share a powerful testimony to caring which is at the core of Brethren Village's ministry.
Students from Cavod Academy in New Holland performing at the Good Samaritan Banquet.
Guests were delighted by four talented young musicians from Cavod Academy in New Holland. Soren Lefever, Emily Rau, Lincoln Everett and Gavin Haas, who range from 7th to 10th grade, shared a variety of popular and spiritual songs. The students were accompanied by Amy Rau, who serves as a Voice & Piano Lessons & Musical Theatre Performance Instructor at the Academy.
We couldn't have done it without our generous donors!
The Development Department continues to receive donations in the mail from donors who want to make a difference. If you'd like to be a part of our ministry and contribute to the Good Samaritan Fund, it's not too late! You can do so online or mail your gift to: Brethren Village, Development Department, 3001 Lititz Pike, Lititz, PA 17543. If you have any questions, please call (717) 581-4316.
Stay tuned for more details about Brethren Village's banquet on April 23, 2020!