Help Us Close the Gap
Generous donors contributed $45,000 to the Good Samaritan Banquet that had to be canceled. Thank you! Now we are asking our many supporters to help us close the $20,000 gap between what we received this year and what we received from last year's banquet.
Brethren Village is doing everything that we can to ensure the safety of all Residents and Team Members during this time of uncertainty. If you would like to be our partner in providing care in good times, and bad, your contribution to fill the gap provides important missing funds that are essential now more than ever to provide a safe and comforting home for the most vulnerable among us.
Banquet Update 3/18/2020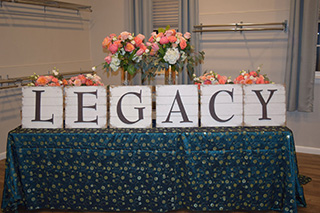 This year's Good Samaritan Banquet was set to be on April 23. In light of everything that is taking place in this unprecedented time, we had to make the difficult decision to cancel the banquet this year. While the night would surely have been one of fellowship and gratitude, we wanted to share the tremendous generosity that we had received. This year alone, nearly $45,000 has been raised for the Good Samaritan Fund.
At this year's banquet we intended to share a series of videos that include a variety of people expressing gratitude. These videos will be available in the near future for you to view, stay tuned. In its 123 year history, Brethren Village has faced a number of world altering events, and we know that we will get through this one and continue to be the ministry to seniors that our Residents are counting on. Thank you for believing in our mission.
We are looking forward to next year's banquet on May 6, 2021!
The Development Department continues to receive donations in the mail from donors who want to make a difference. If you'd like to be a part of our ministry and contribute to the Good Samaritan Fund, it's not too late! You can do so online or mail your gift to: Brethren Village, Development Department, 3001 Lititz Pike, Lititz, PA 17543. If you have any questions, please call 717-581-4316.
Learn how it feels to be home at Brethren Village.
We invite you to view an inspiring video from last year's banquet. You can hear a Resident's daughter share why she wouldn't have her parents anywhere else.
Mission Statement
Rooted in the tradition of service within the Church of the Brethren, the mission of Brethren Village is to provide a continuum of services and Christ-like care to support the aging process and to enhance the spiritual, physical, social and emotional wholeness of residents, staff and community.